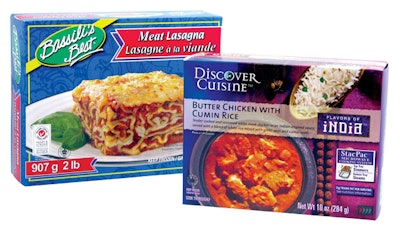 Inovata Foods Corp., Edmonton, Canada, produces its own pasta and rice entrees under the Discover Cuisine and Bassili's Best labels. The firm also serves as a co-packer for other frozen entrée brands. The products
(from 10-oz to 6-lb) are packaged in microwaveable trays and are over-packaged with sleeves or cartons, depending on product.
The products are filled into the trays using volumetric depositors from Multi-Fill, Inc. (www.multi-fill.com) and sauce depositors from Unifiller (www.unifiller.com). A combination scale system from Yamato Scale (www.yamatocorp.com) monitors protein deposits. The trays, cartons, and sleeves are made from a range of material structures and are supplied by multiple manufacturers.
Until recently, cartoned products were manually packed in cases for shipment. But when Inovata increased the line speeds in its product assembly area, the company needed to achieve comparable case packaging efficiencies to better accommodate the faster throughput.
In June 2008, Inovata Foods installed an automated case packer supplied by Douglas Machine (www.douglas-machine.com). The Douglas Invex® Electronic Intermittent-Motion Wraparound Case Packer handles 10-oz to 6-lb entrees in a range of pack patterns (from 3 x 4 x 2 for the 10-oz entrees to 1 x 4 x 1 for the 6-lb sizes). Case-pack speeds are approximately 85/min for cartons holding 10-oz trays and 18/min for the 6-lb trays.
One RSC-style (regular slotted container) case blank at a time is removed via vacuum cups from the power-fed magazine, and the case is formed by the conveyor lugs. The cartoned products are received in a single lane on the infeed conveyor and are automatically arranged and loaded in the proper preprogrammed case-load pattern. The cases then are automatically closed and sealed with hot-melt glue. The hot-melt applicator with hoses and glue guns is supplied by Nordson Corp. (www.nordson.com), while the case packer has servo technology (sse sidebar) and a controller supplied by Elau Inc. (www.elau.com). In all, the case packer runs six different product sizes and enables quick size changeovers.
The corrugated case flats are supplied by Smurfit-MBI (www.smurfit-mbi.com). The cases are labeled and coded using an ink-jet printing system from Diagraph (www.diagraph.com) and a label system from Sato America, Inc. (www.satoamerica.com).
Inovata Foods chief operating officer Bob McColl says, "We chose the Douglas case packer because of the company's strong reputation, competitive pricing, and excellent technical support. In addition, the innovative design and small footprint factored into our purchase decision. It has one of the smallest footprints in its class.
"A Douglas technician helped oversee the final installation, commissioning, and test run of the machine. The start-up went relatively smoothly. There were no major issues."
Installation of the automated case packer has allowed Inovata the freedom to deploy personnel to other plant operations and avoid certain ergonomics-related injuries, while enhancing case-packing speeds and efficiencies.
Companies in this article
Videos from Diagraph, An ITW Company
Videos from Nordson Corporation