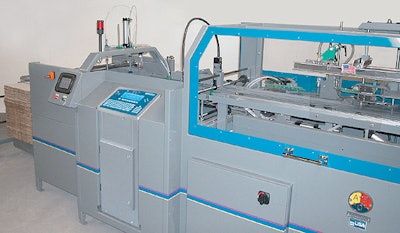 When preliminary concepts for A-B-C Packaging Machine's 330 KDP case erector began to take shape, engineers from A-B-C were approached by Imaje to discuss integrating a built-in printhead module that would automatically print logos, batch codes, product ID, or bar codes onto knocked-down cases during high-speed case forming and sealing. This collaborative effort resulted in a machine that reduces machine costs, maintenance expense, and meets floor space requirements, while also enhancing print quality.
"Shortly after they approached us," says Bryan Sinicrope of A-B-C, "we evaluated their print head capabilities and technology. They were willing to share their expertise and work with us. They offered us their equipment and asked if we would be willing to work with them on applications together."
Because the 330 KDP is equipped with the built-in Imaje Model S8 noncontact printer, packagers can eliminate the need for a separate printing system. Instead of running filled cases past a print head, turning them, and running them past another print head, cases are run past the Imaje printhead that prints on two panels in one pass before the case is erected.
"Imaje offered us compatibility with our case erector requirements," Sinicrope says. "They provided technical support, which helped us develop a new product in less than six months."
Though the case erector is extended 4' to accommodate the printing system and components, it helps save valuable floor space because of the integrated printer. Additionally, because there is only one printhead to maintain, maintenance expenses are kept down. An additional printhead can be added to accommodate a packager requiring printing on all four panels.
Equipped with PLC controls that allow for easy set up and networking, the enhanced machine can run up to 35 cases/min, depending on desired graphics.
Companies in this article