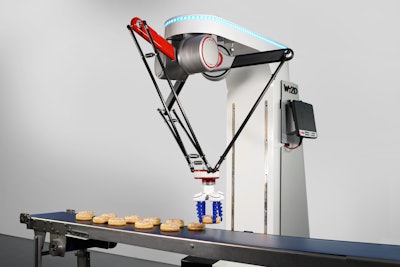 Over the last several years, much of the interest in robot technology has focused on the relatively new category of collaborative robots, or cobots. Unlike traditional industrial robots, they are designed to operate alongside their human counterparts without guarding, are mobile, allowing them to be moved from one area of a plant to another, are extremely easy to program, are more affordable than their fixed counterparts, and can be deployed to handle a range of repetitive, low-speed applications.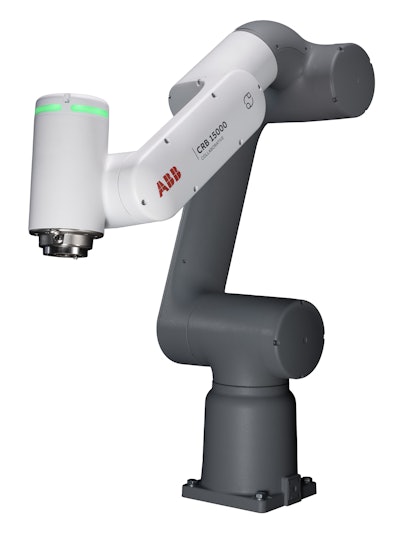 In February, ABB expanded its cobot portfolio with the introduction of the six-axis GoFa™ CRB (Collaborative RoBot) 15000, which can handle payloads up to 5 kg—4.5-kg heavier than the company's flagship cobot, Yumi, introduced in 2015. "Pronounced 'go-fa,' GoFa is designed to help businesses 'go farther and do more,' with a robotic helping hand," ABB says.
ABB notes that the cobot can unlock opportunities for both new and established users by enabling easy automation without the need for in-depth programming skills or prior training—an attractive selling point of most cobots on the market today. Ease of use is facilitated by Wizard Easy Programming, lead-through programming, and an Arm-Side Interface (ASI) on axis six.
Among the cobot's other features, it has a reach of 950 mm, which ABB says outperforms other 5-kg robots by around 12%, and it operates at speeds to 2.2 m/sec. The cobot is 27 kg and has a compact footprint of 165 mm2, allowing it to be easily moved between locations. Recommended applications include material handling, machine tending, component assembly, packaging, and laboratory automation. The GoFa CRB 15000 can also handle inspection tasks when a separate vision system is integrated.
---
---
Every GoFa cobot installation includes a start-up package that provides ABB's Ability™ conditioning monitoring and diagnostics and access to a free support hotline for the first six months.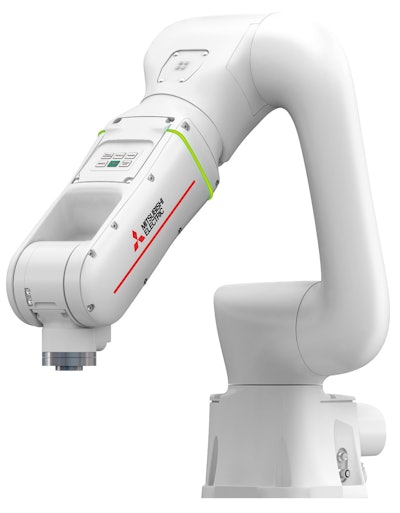 From Mitsubishi Electric Corp. is the MELFA ASSISTA cobot, also a six-axis, 5-kg-payload machine. The cobot comes with the company's RT VisualBox engineering software, which enables operating sequences to be created intuitively by linking block diagrams in a chain of events, including connection with other devices, such as robot hands and cameras.
"Robot movements can be taught and recorded quickly via a dedicated control panel on the robot arm, doing away with the separate teaching boxes required for conventional industrial robots," says Mitsubishi. "The control panel features a simple design with a minimum number of buttons for simplicity, enabling even inexperienced users without expert knowledge of robots to set the system up with ease."
Certified peripheral devices, such as electric grippers and cameras, can be connected using RT VisualBox, and Mitsubishi says it plans to expand the lineup of certified companies, known as MELFA Robot Partners, and connectable devices to enhance the applicability of the MELFA ASSISTA series.
Upping the ante on payload, Universal Robots has launched an enhanced version of its UR10e cobot with 25% more payload, resulting in a capacity of 12.5 kg, which allows for new deployment opportunities. According to company President Kim Povlsen, Universal Robots made the change in response to consumer needs. "Our customers have already deployed UR cobots on a wide variety of palletizing applications," he explains. "Over time, they have identified opportunities to utilize our UR10e cobot in handling tasks with heavier items."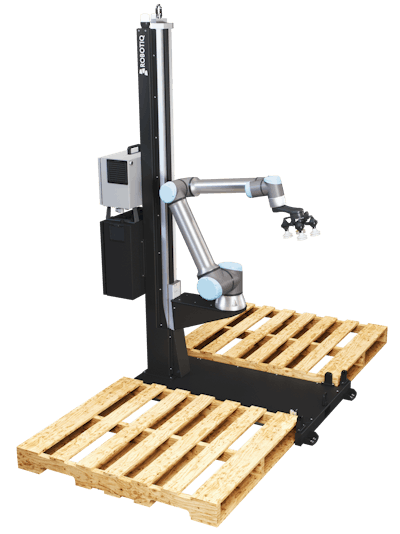 The enhanced UR10e retains the same footprint of 190 mm as the previous-generation model, offers a 1,300-mm reach, and weighs 33.5 kg. According to the company, the UR10e can now be used in palletizing operations with cartons weighing up to 10 kg with a 2.5-kg gripper and for other material handling tasks, such as loading and unloading heavier workpieces in machine tending deployments and packaging of heavy items.
The updated UR10e also provides plug-and-play compatibility with products from Universal Robot's UR+ ecosystem of hardware and software peripherals, ensuring users can quickly and easily get started with cobot applications.
Says Universal Robots, feedback from its partners has been extremely positive; MBO Postpress Solutions in Germany has integrated the new UR10e as part of its CoBo stacking cobot.
---
---
Making its debut as a unique cross between a delta pick-and-place robot and a cobot is the Wyzo pick-and-place "sidebot," from Demaurex SA. Says the company, while traditional pick-and-place robots are large and work on fully automated lines separated from operators by protective doors, Wyzo's advanced safety system—like that of all cobots—allows it to collaborate with humans in close proximity.
Using a high-tech robotic arm and built-in or external vision systems, the sidebot finds and picks products at 80 cycle/min, with a payload of 0.5 kg. Through its advanced sensor technology, Wyzo constantly monitors its surroundings for the presence of human activity, allowing it to maximize performance when on its own and to slow to a safe operating speed when a human is in close proximity.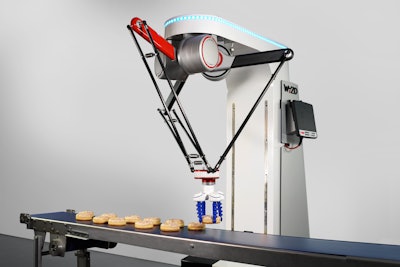 To meet a variety of production needs, Wyzo is designed to fit anywhere on the production floor. At less than 0.5 m2 and just 1.80 m high, the sidebot fits through standard doors and elevators and can easily be moved from one workstation to another. For manufacturers switching between products, Wyzo is compatible with all regular grippers on the market with changeover speeds of less than nine seconds. It also offers integrated pneumatic, electric, and vacuum controls.

Also like its articulated-arm cobot counterparts, Wyzo has been engineered to be easy to program and use by operators having little to no experience in automation solutions. According to the company, the system's mobile terminal is as easy to operate as a smartphone, and neither script nor programming are required to get Wyzo up and running.
Access the entire annual report on robotics from Packaging World: "New Advances in Robotics for Packaging"

---
PACK EXPO Las Vegas and Healthcare Packaging EXPO (Sept. 27-29, Las Vegas Convention Center) will reunite the packaging and processing community. With over 1400 exhibitors, no other event in 2021 will bring together a more comprehensive gathering of suppliers offering new products, technologies, and solutions. Attendee registration is now open.
Companies in this article