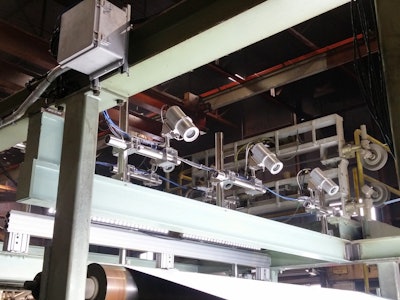 The fully integrated total quality control solution is designed for flat sheet and film processes in which surface detection and production break monitoring capabilities are critical for competitive success. This new solution is designed for paper, pulp, tissue, board, extruded film, calendaring, lithium-ion battery, copper, and aluminium foil producers.
Combining Honeywell's ExperionMX™ technology with market-leading Papertech's TotalVision™ defect detection and event capturing capabilities, the solution provides a single-window operating environment for all aspects of process and quality control. Customers benefit from faster root cause determination of runnability and quality problems, thereby saving significant time in lost or downgraded production. When integrated with connected offerings such as Honeywell QCS 4.0, system data and analytics can be accessed anytime, anywhere, from any device.
"Honeywell represents an ideal collaborator for Papertech as our industry-leading WebInspector WIS and our WebVision web monitoring system (WMS) single platform TotalVision™ camera system seamlessly integrate with Honeywell's quality control systems for a range of industries," said Kari Hilden, CEO of Papertech Inc. "We look forward to working with the global Honeywell team and their customers."
Honeywell will continue to support existing camera system users with parts and services, while offering an easy migration path to the new solution. Given the collaborative nature of the agreement, customers can choose to take a single party, single-window approach or to engage with Honeywell and Papertech separately.
"As the world moves from plastic to biomaterial-based packaging, and from hydrocarbon-based transportation to electric vehicles, flat sheet producers are under increased pressure to ensure output consistently meets a variety of performance and safety requirements," said Michael Kennelly, global business leader for sheet, film and foil industries, Honeywell Process Solutions. "By bringing together Honeywell's core strengths of measurement, control, connected applications and services in flat sheet production with Papertech's leadership in web monitoring and inspection systems, we uniquely provide customers with that capability along with industry-beating lifecycle costs."
Companies in this article