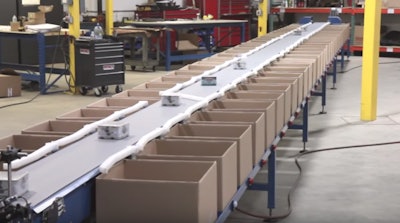 Eaglestone Equipment, a supplier of food processing conveyor equipment, introduced its Series 2300 Large Volume Sorting Conveyor. The Series 2300 is designed to reduce sorting time and manpower by requiring only one operator for the entire process.
Adjustable speed pneumatic sorting arms are made to automatically divert products into waiting containers and shift to a different receptacle when previous cartons are full. Bright LEDS indicate when each container is near full, and completely full. The Series 2300 is designed to sort both random and single product production batches through the use of eye-safe infrared scanners which identify barcodes.
The Series 2300 is meant to provide long lasting service with a low operating cost. Numerous options are available to match each individual application, according to the company. These include retracting ends, diverting chutes, blast gates, push offs, stainless steel casters, and more. A modular plastic belt comes standard. Custom choices such as fabric, urethane, etc. can also be installed.
"Finding the perfect sorting conveyor for a particular set of products that fits size and space parameters can be arduous," says Carmen Sammauro, president of Eaglestone Equipment. "We have highly trained and experienced designers and engineers that will help you design the right custom sorting conveyor for you."
Companies in this article