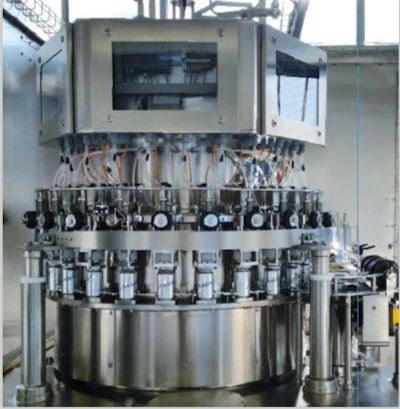 "For brewers looking to expand their overall production, with the flexibility to run a variety of can sizes and recipes, but who still want to keep their canning footprint relatively small, the CB244 is the perfect machine to help them do that," said Adam Brandt, Vice President of Sales for PSA.
The CB244 is a precision machine, with 24 electro-pneumatically controlled filling valves that ensure fill level accuracy to within +/- 0.5 grams of target volume. The gas flush system and pressurized filling result in extremely low oxygen pickup, which ultimately means longer shelf life for the final product. "Angelus" in the Pneumatic Scale Angelus name means industry-leading double seaming technology to help keep cans sealed tight.
Built for both speed and flexibility, the CB244 allows changes in lid diameter with no change to the filling valves, and changes in can height or diameter can be made in just minutes, using multiple recipes saved in the PLC. The collocation of product and CO2 supply connections aids in installation, and the full stainless steel design means easier machine maintenance.
Companies in this article