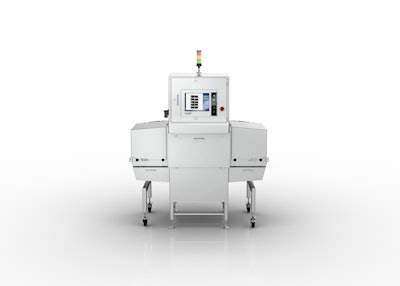 As the market continues to expand for multi-compartment food products, including fresh and frozen meals, snack kits, and other convenience-oriented foods, manufacturers can use x-ray systems to check for product safety, as well as consistency and quality. Eagle Product Inspection offers x-ray inspection solutions that can detect physical contaminants while also performing functions like checkweighing to ensure proper portioning and package weight.
"X-ray systems can be used to ensure that the sum meets the whole of the parts in multi-compartment packages," says George Humphries, Senior Technical Specialist for Eagle. Eagle's x-ray systems are powered by SimulTask™ PRO software to examine the density of the product, which is used to calculate the weight. As part of that checkweighing capability, weights can be determined for each individual zone or compartment as well as for the total package, something that can't be done by a conventional checkweigher that uses gravitational pull to gauge total package weight.
In addition to determining accurate weights for each zone of a multi-compartment package, operators can check for correct product placement and positioning, along with component count, fill level and the presence of any damaged items. "If some parts of the package seem to be regularly overweight or underweight or have missing pieces, the system will quickly alert operators to such irregularities. Automatic detection and rejection help assure quality while also allowing manufactures to keep their lines continually running," Humphries says.
Eagle's x-ray systems, which range from mid-sized systems like the Eagle Pack 320 PRO to large machines for high-volume operations like the Eagle Pack 550 PRO, also find and automatically reject products with foreign materials that pose food safety hazards, such as glass shards, metal fragments, mineral stone, calcified bone, and some plastic and rubber compounds, among other contaminants.
Companies in this article