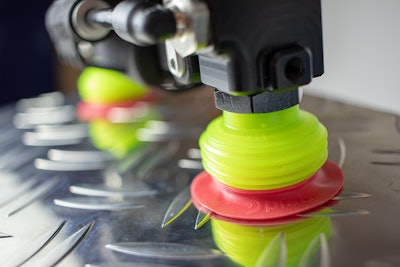 It is designed to provide an excellent grip even on highly perforated or heavily patterned surfaces that might prove challenging for other cups. Its extra sealing capability makes the cup suitable for safe handling of surface leaking materials with, for instance, wrinkled and textured surfaces, and for porous materials such as corrugated paper.
"The FXI cup is able to handle everything from the highly decorative designer packaging used in the cosmetics industry, the pharmaceutical industry's blister packages and lids/covers with printed relief text to the highly textured components used in the building trade," says Josef Karbassi, Vice President of Piab's Automation Division.
The integrated high flow retainer prevents the super soft and extra long lip from curling or folding when applied on surfaces. The retainer ensures that the flexible lip is not being sucked into the cup instead of spreading over the surface of handled objects.
The piGRIP®FXI suction cup is available in two alternative softness versions, scoring 30 and 18 respectively, on the Shore A durometer hardness scale. The softest 18 shore version is considerably softer than previously available parts and ensures maximum flexibility.
Made in recyclable and FDA and EU approved materials recommended for food handling, the piGRIP®series offers 40 different fittings together with a generic interface.
Companies in this article