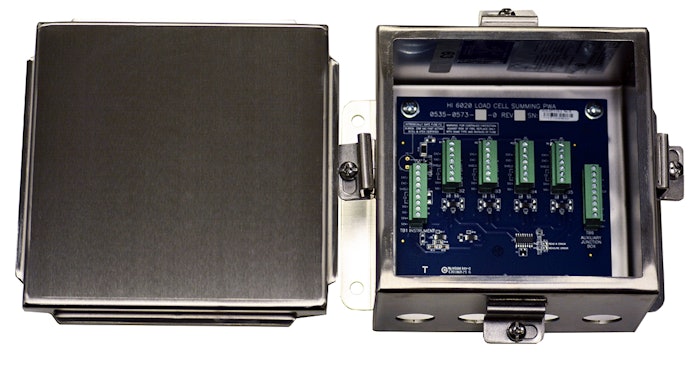 Summing boxes are a critical weighing system component that distributes excitation voltage from up to four load cells, and transfers each load cell's performance characteristics and weight signals to a Hardy weighing instrument.
Hardy HI 6020 models use two core Hardy technologies: C2 electronic calibration and Integrated Technician (IT). C2 allows electronic calibration without test weights. IT offers complete weighing system monitoring and troubleshooting. Weighing applications include: batching/blending, filling/dispensing, level-by-weight, inventory management, and product inspection.
The HI 6020 Summing Box is available with a variety of options, including: IT, trim pots (for non-Hardy load cells), and a NEMA 4X enclosure in stainless steel, painted steel, or fiberglass. A single HI 6020 Summing Box supports up to 4 load cells. To connect two HI 6020 Summing Boxes together to support between 5 and 8 load cells, Hardy supplies a TB6 Auxiliary connection between boxes.
Companies in this article