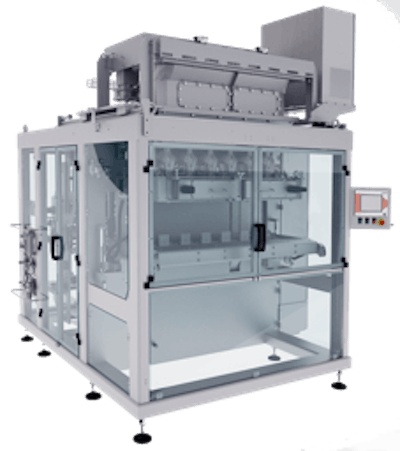 A servo controlled pump quickly and accurately adjusts for optimum filling of a range of hot and warm fill high viscosity foods. A heated, jacketed hopper with a new recirculating system keeps foods warm during line stoppages for faster start up when production resumes.
A new recirculation system for the heated, jacketed hopper maintains specified viscosity during production interruptions caused by downstream equipment. Recirculation eliminates the necessity of having to engage in time consuming cleaning of the hopper after routine line stoppages. Fast startup of sachet and stickpack machines increases throughput and overall equipment effectiveness.
Depending on the size of the package and number of fill lanes, these high speed production machines can produce up to 700 units/min. Both the MVA900 and the SP1200 are v/f/f/s machines with compact footprints to conserve floor space. Both offer nitrogen flush capabilities for long shelf life applications. Each is built to 3A sanitary standards. Both have latest clean-in-place capabilities. Optional collating conveyors count sachets and stickpacks for loading into cartons or pouches.
Companies in this article