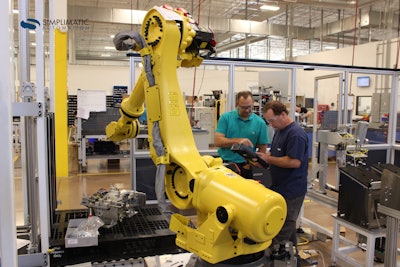 The Simplimatic team can design and create custom robotic and automation cells which work together seamlessly with a user's current high-speed inspection machine.
The first cell uses a FANUC M-710iC to pick trays of fragile glass vials from a pallet and safely loads the goods onto mat-top conveyor to enter an inspection line. Each pallet of vials must be carefully handled throughout the loading process. The cell is surrounded by a large safety fence with two doors to allow for empty and full pallets to enter and be placed next to the robot for unloading. The multi-axis robot, equipped with FANUC iRVision, two ultrasonic sensors, and custom end-of-arm tooling, then separates and grips the trays.
The tray is then carried by the robot to a custom de-traying unit (DTU) which features an infeed table and tray trolley. The robot places the tray carefully and the trolley immediately locates the tray, sliding it down to the opposite end of the table. From there the DTU utilizes a sharp shelf which slides into the tray through a small opening and glides under the products without causing them to fall. De-traying the products and placing each fragile item onto an attached conveyor is one fluid motion by the rising shelf.
After de-traying, the empty tray is removed by the robot and is re-palletized. As the robot palletizes the empty tray, a second full tray is already waiting to be unloaded to ensure maximum efficiency and throughput.
Simplimatic successfully matches customers' manufacturing process requirements with a robot featuring the service life, payload capacity, reach, and repeatability to seamlessly serve as an automated assembly solution.
Companies in this article