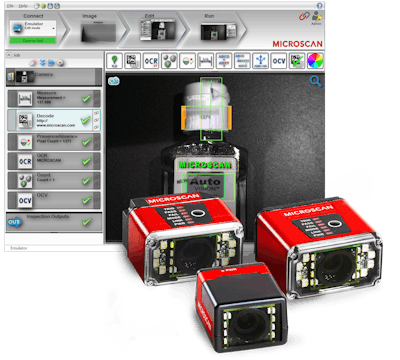 Featuring the industry's most intuitive user interface for basic to mid-range applications, the software allows any user – regardless of experience level – to easily implement practical machine vision jobs for item tracking, traceability, defect detection, automated guidance operations, and monitoring. Inspection jobs are set up using step-by-step controls in the interface that guide users to connect to a camera, capture an image, add tools, and run the applied inspections.
Graphical drag-and-drop machine vision tools allow users to add inspections to a saved image or live image feed from a connected camera to see real-time results and understand how a particular tool will affect the inspection output. AutoVISION tools range from the Decode Tool (decode any linear or 2D symbol to identify, log, track, and trace products), to the Measure Tool (ensure accurate parts and assemblies as well as enable guidance operations), to Optical Character Recognition and Verification tools.
The software is scalable and backward-compatible with Microscan's advanced Visionscape machine vision software for access to programmer-level machine vision settings, enabling users to migrate jobs from one software environment to another on a single vision system. This allows users to meet changing demands without increasing time or cost to implement new capability.
Companies in this article