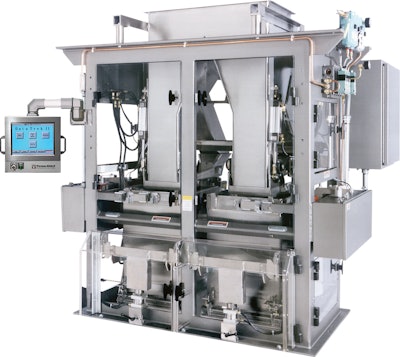 Strain gauge load cells with optional full load calibration weights automatically ensure correct weight sensing and control in a variety of production environments and conditions. The pneumatically actuated buckets can be supplied in different sizes to maximize product flow and weighing accuracy.
The HS Series servo-driven feed chute and product feeding systems can be precisely configured to specific product flow requirements and can include vibratory or gravity feed on the main and/or dribble discharges. Linear actuated flow plates are also available for precise feeding of product and repeatable electronic adjustments. The user-friendly color touchscreen terminal provides intuitive set-up, data monitoring, and diagnostic capabilities.
The scale is designed for clean and sanitary operation in dry, wipe-down packaging environments. All product contact surfaces are made from heavy-gauge stainless steel with smooth welded seams and generously radiused corners.
Companies in this article