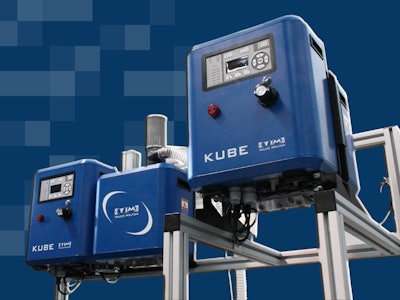 The Kube helps improve system operation by removing degradation problems; it also minimizes maintenance and downtime associated with gluing systems.
Suitable for the food and beverage industries, the new Kube features customized installation with multiple configurations. Unlike other melt on demand or "tankless" systems, the Kube is engineered to operate with three different mount systems, making it suitable for both new machine installations, as well as system upgrades/replacements.
Melt on demand promotes adhesive stability and reduces char by only melting adhesive as needed. The Kube's high-output melting grid is capable of melting up to 9-12kg/hr., and pumping more than 30kg/hr. It is also able to run up to 6 hoses/guns, and the enclosed system with integrated auto feed keeps out dirt and debris. The manual fill option circumvents the need for shutting down the production line in case of emergency or repair.
Short stroke pneumatic and electric applicators result in fewer plugged nozzles and part changes. The Kube's market-compatible connections for competitive hot melt systems minimize spare parts stock and allow for quick installation. The system features an assortment of hot melt gun options including the ME dual acting guns, MKF Miniguns, and EcoStitch guns, which offer individualized solutions.
Companies in this article