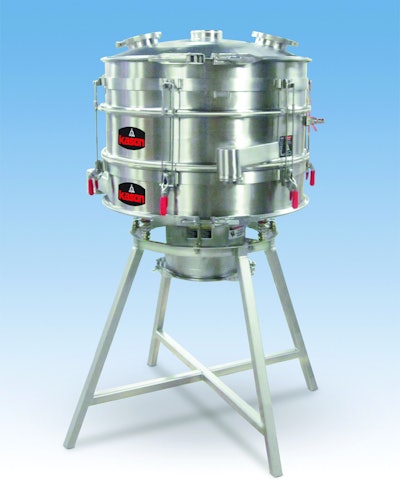 Constructed of stainless steel with continuous large-radius weld seams ground and polished to 240-grit, the screener complies with 3-A, BISSC and FDA sanitary standards as well as ATEX and CE electrical standards.
The external, interlocking flange configuration of the screen frame fully envelops the support ring of the screen, allowing the screen's wire mesh to extend to the interior walls of the frame,  and eliminating the gap between the screen ring and frame wall of conventional screeners where material would otherwise collect.
The gap-free design dramatically reduces the possibility of contamination due to bacteria growth, and improves sanitizing efficiency, making it suitable for pharmaceutical, food and dairy applications, as well as other applications where cross-contamination is a concern. 
The patented Kasonic anti-blinding device allows sifting of powders as fine as 25 microns (500 mesh) at high rates with no screen blinding. Single or multiple transducers (for large diameter machines) transmit ultrasonic frequencies to the screen surface in continuous or pulse mode, automatically adjusting power to maintain constant frequency as screen loads vary.  Transducers operate with standard screens and are not fixed to the woven wire mesh, reducing re-screening costs significantly.
 
The Clean-In-Place design employs spray nozzles that are strategically placed to emit cleaning solutions, rinsing solutions and/or steam for sanitizing the interior of the screening chamber(s) without the need to open or disassemble the unit.  The four-leg support stand with open base design and stainless steel wash-down motor enclosure provides complete access for thorough washdown of the unit's underside and plant floor.
The Auto-Lube feature pressure-feeds food-grade lubricant to the motor bearings, flushing out any dead spots where lubricant might pool, and allowing 6 to 12 months between reservoir replacements.
An optional Air-Lift  quick screen change feature allows rapid access to the interior of the unit for inspection, cleaning or screen changes.
Available in diameters from 18 to 60 in. (46 to 152 cm), the unit is also offered with a second spout on the upper frame for continuous discharge of the overs fraction.
Companies in this article