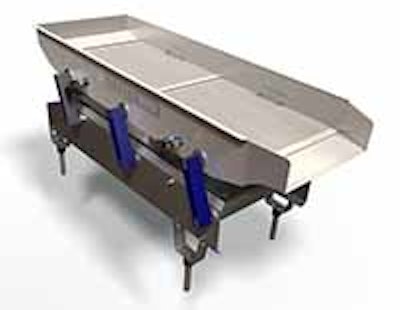 The Standard Utility Shakers are suitable for processing fruits, vegetables, potato strips, and potato chips. The new hygienic features, standard on the Utility Shakers, are options on other Iso-Flo conveyors, which are used for conveying, grading, product distribution on processing and packaging lines, product alignment, fines removal, scalping, inspection, and more in plants producing meat, poultry, seafood, dairy, confectionary, snack, and bakery products as well as cereals, grains, and seeds in addition to fruits, vegetables, and potato strips and chips.
New hygienic features that enhance the Iso-Flo conveyor's sanitary design include oil-free electric vibrating motors, an innovative patent-pending vector lock screen clamp, elastomer isolators, scalloped flat bars, plate frame design, and a unique internal ground arm. Established features that continue to be incorporated on Iso-Flo conveyors include a choice of stainless steel bed finishes that resist bacteria growth and are easy to clean and long-lasting StrongArm spring arms that minimize maintenance.
Iso-Flo's new energy unit is an oil-free electric vibrating motor that eliminates the gear box, drive belts, and motor oil from the process. This new out-of-balance motor inherently improves equipment hygiene by eliminating the oil that can inadvertently contaminate product, especially when the equipment is mounted over other equipment. The new energy unit also reduces maintenance.
A new vector lock screen clamp features a unique hybrid design that enables it to perform multiple functions simultaneously. This patent-pending mechanism, used to secure an Iso-Flo conveyor's screen in place, is easier to open and close. It allows an operator to lock and unlock a screen with one hand and no tools to swap out screens more quickly and easily. This hybrid does not lose pressure over time, and  won't rattle, even when in the open position, or leak. It helps keep floors dry to improve worker safety and enhance sanitation.
Other new Iso-Flo features eliminate laminations and enclosed hollow bodies that can harbor bacteria. Scalloped flat bars are continuously welded, replacing skip welding. The new plate frame replaces traditional tube frames and elastomer isolators replace coil spring isolators that can trap product and rust. The new isolator-brackets feature an "easy slide out" capability that enables the processor to remove isolators during maintenance without a forklift. The new internal ground arm replaces a traditional ground strap that is prone to breakage and can cause product to hang up. Equipment stickers, which can flake and fall into product zones, are eliminated.
The Standard Utility Shakers, which include all hygienic improvements, are available in two sizes, 24-in. (61 cm) and 36-in. (91 cm) wide, both 72-in. long (1.8 meters), and with or without screens. The Model 2472 offers 10 sq. ft. (0.93 sq. meters) of screen area and the Model 3672 offers 15 sq. ft. (1.4 sq. meters) of screen area. These standard shakers feature geometry that enables multiple shakers to be nested in a line maximizing the versatility of the two standard shakers to meet the needs of each application. The shakers with screens include drip pans to capture water or fines.  Key offers customized Utility Shakers in other sizes and configurations.
All Iso-Flo conveyors, including the Standard Utility Shakers, are backed by Key's industry-leading five-year warranty.  All standard Iso-Flo conveyors feature the CE mark and UL certification.
Companies in this article