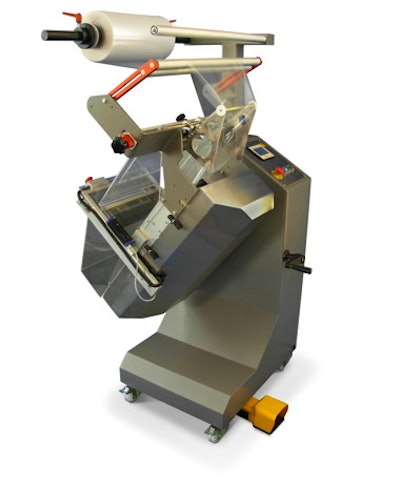 Its unique pivoting function allows the Breezy bagger to tilt from a horizontal position to almost vertical. The product being wrapped or bagged can be hand loaded or fed automatically with many types of ancillary machines and methods.  The bag width and length are fully adjustable with no change parts and no forming shoulder and tube. The hand crank adjustment for pack width can adjust from 2-in. to almost 12-in. wide. The bag length can vary from 2-in. to 36-in. long.
The Breezy Bagger length sensing detection and operational logic feature includes three choices of logic including one that adjusts to the length of product each and every cycle. The Breezy detects the length of product and makes the bag according to the length of product. The benefit to the user is cost saving on materials on product that may vary in length as well as random filling of product through the machine. An operator can feed a product of 6-in. long for a few minutes, and then feed a product 12-in. long with absolutely no adjustment. The other sequences of operation allows production of a fixed bag length either above or below the seal jaws. The machine includes many complete choices to best suit the product being wrapped or bagged.
The versatile Breezy Bagger can be used for many applications and industries.  In the vertical position the Breezy Bagger as an example can bag an individual baked dinner roll to a full-length baguette, a single stem rose to a bunch. Bag a single bell pepper or three, or one celery stalk or two. It handles hardware that can range from furniture kits with screws and brackets to a curtain rod. In the horizontal position it can wrap products in a tray much like a horizontal flow-wrapper.
The machine uses servo driven technology for fast and precise adjustment, as well as a very user-friendly color touch screen HMI.
This multi-purpose machine can operate either automatically or semi-automatically. The machine comes complete with a foot pedal and auto cycling. Options include photo eye registration for printed film, gas-flushing capabilities, auto infeed solutions, and much more. It is compact, simple to use and maintain. The Breezy Bagger can be wheeled in and out of a packaging area as needed.
The Breezy Bagger can cycle and produce up to 30 packs/min. and is relatively inexpensive. An end user can achieve a quick ROI by using roll stock instead of pre made bags.
Companies in this article