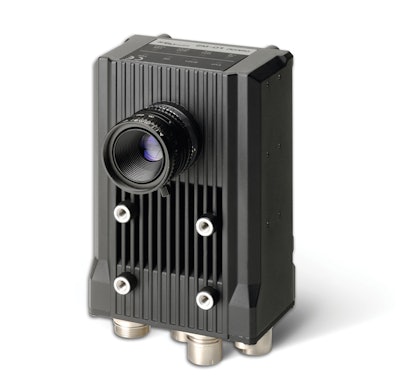 Highly compact, with a processing speed of 5,000 pieces per minute even with full 360 degree rotation, the new FQ-M vision sensor comes with Ethernet and EtherCAT embedded for ease of integration into any environment, and includes an incremental encoder input for easy tracking and calibration. The FQ-M is easily configured for guidance of dynamic pick-and-place robots using Omron's Sysmac Studio software, and is complemented by the palm-sized TouchFinder console for local monitoring and access to functions and settings.

The FQ-M is a smart camera that meets all the needs of demanding object recognition and tracking applications, combining a camera, image processing functionality, and flexible communications options into one compact package. The vision sensor ensures stable and robust shape-based detection even under changeable environmental conditions, and has been designed to inspect a wide range of objects.

The FQ-M vision sensor is the latest addition to Omron's Sysmac Automation Platform that tightly integrates core automation components with a common network and a single programming and configuration interface. It communicates with other devices either via EtherCAT (Omron's network of choice for the Sysmac Automation Platform), standard Ethernet, or a combination of the two. For example, the FQ-M might be networked to an Omron NJ series Machine Automation Controller (MAC) for object tracking and to the robot itself and the TouchFinder console over standard Ethernet.

Object detection is based on a newly developed contour-based search algorithm that ensures the highest reliability, regardless of changing lighting conditions, reflection, and object inclination. The algorithm can even cope with overlapped or partially hidden objects. With this high performance algorithm and the high-speed image processing capability, the FQ-M can detect up to 32 pieces at once with absolute stability, and 5,000 pieces per minute. The incremental encoder interface simplifies initial calibration of the system and enables on-the-fly tracking for tightly synchronized control. The FQ-M is able to output position coordinates and the corresponding encoder values and to manage the object queue so that no object's coordinates are duplicated. This eliminates the code necessary in the MAC to compensate for overlap conditions from the vision system and improves overall system performance.

Set-up of the FQ-M vision sensor is performed through the Vision Editor of the Sysmac Studio software that provides intuitive, icon-driven configuration to make it easy to achieve the optimum vision setting. The Vision Editor also provides comprehensive trending and logging functions. For quick integration into robot pick-and-place systems, the communication wizard configures any robot protocol, either as a server or client, without complex programming.

For ease of monitoring and access to parameters and settings, the TouchFinder console provides a 3.5-inch TFT color touch screen. Users can view images in real time, zoom in, zoom out, and freeze images for closer manual inspection. The TouchFinder can also show a variety of measurements, including the last result, the last no-go result, a trend monitor, and histograms. It can also log the data from measurement results and measured images. Users navigate through the various functions via the intuitive touch screen interface.

Measuring just 110x75x50 mm, the FQ-M vision sensor is compact enough to make mounting simple in even the most challenging automation environments. For ultimate flexibility, the FQ-M provides a standard C-Mount lens attachment, enabling users to select from a wide range of compatible lenses for optimized system performance.

For further information and specifications on the FQ-M vision sensor, click here.
Companies in this article