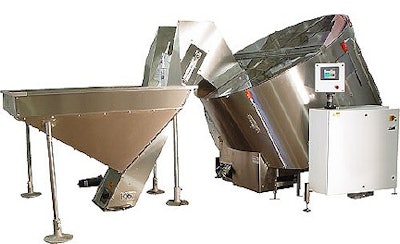 The NECOSORT cartridge unscrambler sorts a wide range of cartridge sizes. Easy release clamps and unitized change parts make changeovers a fast and simple operation allowing a single employee with no special skills to complete a changeover in twenty minutes or less. Designed with only two moving parts, virtually eliminating downtime, the NECOSORT carries a three (3) year warranty!
The NECOSORT comes standard with a PLC and color touch screen control. This control system provides an intuitive icon-based graphical user interface making training, set-up and operation simple and straightforward. The control system is also a powerful foundation for providing the features and integration capabilities required for a range of production environments. Capabilities include: "recipe" control, cartridges per minute indication, fault /warning indications and logging, "run permissible signal", discrete I/O and system integration via RS232/485, Data Highway (DH/DH+), Ethernet, or DeviceNet.
Reliability you can count on:
The NECOSORT carries a three-year warranty! The NECOSORT family of unscramblers has only two (2) moving parts and one of them is the discharge conveyor. The actual unscrambling mechanism features a single moving part. This design insures maximum reliability, minimal maintenance, elimination of spare parts and no adjustments.
With no reciprocating motions, complicated mechanisms or hard to adjust container handling parts, maintenance and downtime is virtually eliminated.
"Quick change" changeover:
Easy release clamps and unitized change parts make changeover to different sizes and types a fast, simple operation. A single employee with no special skills may simply clamp in the number of chutes needed for a particular cartridge and complete the changeover in twenty minutes or less.
Flexibility:
The number of container-sorting chutes is determined by size of the item being sorted. Shorter items utilize more chutes, and thus the speed of production increases due to those additional chutes. The number of chutes is proportional to the height, assuring maximum production rates for each item being sorted, while keeping rotational speeds low.
Gentle handling and precise control:
A circular assembly of sorting chutes permits gentle sorting of each item. Each item is individually protected in its own chute which eliminates most sliding contact with stationary surfaces.
Stainless steel construction:
Stainless steel change parts and other cartridge contact parts provide for exceptional durability.
Reliable drive unit:
A rugged AC variable speed drive assures smooth starts and stops.
Companies in this article