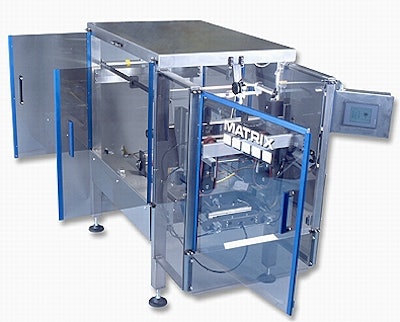 The affordable and easy-to-operate Matrix MX 2840 is the latest high-performance v/f/f/s (vertical form-fill-seal machine) offering from Matrix Packaging Machinery. The high speed MX is rated at 120+ bags per minute (flat-bottom gusset and pillow bag styles) in sizes up to 11" x 15.7" (28cm X 40cm).
Engineered for high speed/low-maintenance applications the MX features a graphical icon-based user interface stainless steel tubular construction Allen-Bradley controls and a poly pro sealing system with smart jaw technology.
Following the Matrix tradition the MX is rugged easy-to-use constructed with non-proprietary components and very aggressively priced.
Visit our Web site at www.matrixpm.com for your chance to win the new Matrix MX 2840.
See video.
Companies in this article
Videos from Matrix Packaging Machinery