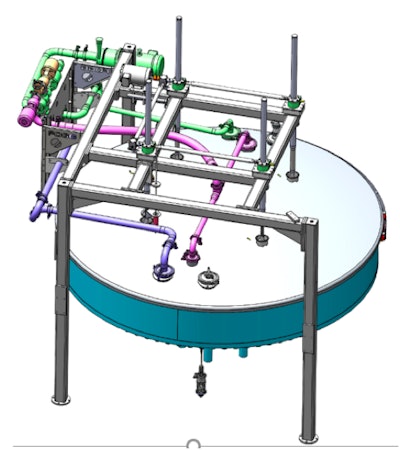 Fogg Filler, a designer and manufacturer of rotary filling systems for the liquids industry, is seeing a renewed interest in hot-filling products.
Temperature management for hot-fill applications has been made simple with using the Fogg recovery trough, according to the company. The built-in sensor allows operators to manage product temperature in the bowl and filling valve tip temperatures, when line stops occur. The operator can easily send the trough into position to purge the cooled product in the valves until production can be resumed, sending only a small amount of product back to rework.
When customers have specifications that will not allow the product to encounter the atmosphere by using the trough system, Fogg has developed another option. This new and innovative system recirculates the product within the bowl including the product in the valve tips. This virtually eliminates the product loss associated with other hot fill methods.
If operators are cold-filling on a new Fogg and would like to switch it to hot-fill, it can be as easy as warming up the product and go. Fogg's technology helps lower operating costs and provides the highest level of reliability for your production lines, according to the company. Please stop by our booth at PACK EXPO Las Vegas, booth C1654.
Companies in this article