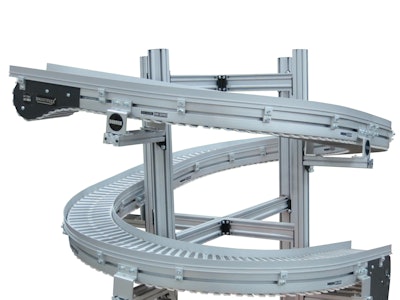 What started out as a little tool and die shop has evolved to become an industry powerhouse in the design and building of low profile conveyor platforms—and 50 years later Dorner Mfg. is still going strong. The latest Dorner innovations expand its versatile SmartFlex flexible chain conveyor line.
When floor space is tight and applications call for product to be moved up or down, Dorner's trio of SmartFlex curve conveyors are the perfect answer. The SmartFlex Helical Curve, Spiral, and Alpine conveyors greatly expand the capabilities of Dorner's SmartFlex line by giving customers the ability to move product up or down and around equipment to accommodate tight spaces. Dorner's SmartFlex line is a flexible conveyor platform that reduces costs, saves time and offers simple configuration and acquisition options to Dorner's customers within the packaging, medical, health and beauty, industrial automation, and electronic industries.
The SmartFlex Helical Curve allows incline or decline movement through corners and straights and provides capability for vertical incline with minimal space. The SmartFlex Spiral is capable of twisting 360-degree turns to move product vertically with an extremely small footprint. Both the helical and spiral conveyors feature a patent pending chain design that allows the conveyor to maintain speeds and loads through the angled curve. The SmartFlex Alpine is designed for long, continuous incline or decline runs with tight turns. It's also ideal for accumulating, buffering, and cooling product between processes or machines.
"Our SmartFlex line has been very well received in the industry as a platform that can be engineered to exact customer specifications and shipped in about five days," says Stacy Johnson, senior marketing manager, Dorner. "Applications continue to become more complex, and our customers are looking to us for conveyor platforms with tight turns that use very little floor space—and that's exactly why we continue to expand our SmartFlex line."
Specifications, features and benefits of the SmartFlex Helical, Alpine and Spiral curve conveyors include:
Aluminum single-piece frame conveyor
Navigates very tight corners with wheel and plain bend options
Multiple product transfer options for end and side transfers
Provides capability for vertical incline with minimal floor space
Available widths of 65 mm, 85 mm, 105 mm, 150 mm and 180 mm (depending on model)
Speeds up to 250 feet per minute
Made to exact customer specifications and shipped within five days
Although the Dorner brand has become a household name within numerous industries, the company originally founded by brothers Wolfgang and Horst Dorner looked very different 50 years ago. The Dorners first opened their doors for business on January 14, 1966, as a tool and die shop. Their reputation for quality and responsiveness was born out of their philosophy: Catering to the Customers, which meant building a high quality precision product, making sure customers were satisfied, providing responsive service—followed by a belief that in return customers would reward them with their business.
The transition to conveyors in the early 1970s happened out of necessity. The Dorners were looking for a conveyor to efficiently remove scrap and parts from under their dies. However, they could not find one that fit in such a tight space. Manufacturers they spoke with said conveyors could not be built that small because a bearing of that size would not be durable, and belts would not wrap around such tiny diameter rollers. The Dorners would see about that, and set out to prove them wrong.
Shortly thereafter, they developed and patented a new radial thrust bearing and worked with belting companies to obtain a flexible, durable belt, and in 1973, the 4100 Series industrial conveyor was born. Word of this conveyor began to spread, and within a few years conveyor sales were greater than the tool and die business, which was then phased out of production. From that point forward, the brothers focused on conveyors—and the company has not looked back since.
"Our philosophy today mirrors that of the one set forth by the Dorners 50 years ago—a philosophy based on being responsive to our customers," says Terry Schadeberg, President and CEO of Dorner Mfg. "Carrying the torch forward and continuing to live up to the ideals established by the Dorners is something every employee embraces. We're very excited for what the next 50 years holds for Dorner."
While the company has enjoyed many noteworthy accomplishments through the years, the past year has been marked by several major milestones:
Opening its first office in Canada to better serve the Canadian market
Acquiring FlexMove, a Malaysian-based manufacturer of flexible chain conveyors for food, beverage, automotive, electronic, and other industries
Adding staff aimed at establishing brand recognition and growing sales to international markets
Expanding its Hartland, WI, headquarters by adding 25,000 square feet to its manufacturing area to meet future production goals and anticipated growth
Major expansions to many of its conveyors, including its AquaPruf sanitary, SmartFlex, and 2200 Series platforms
Dorner is observing its 50th anniversary with an open house and other celebratory events in June.
Companies in this article