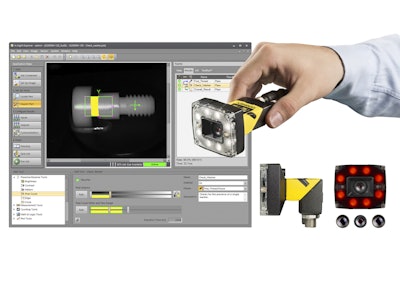 Cognex Corp. introduces the In-Sight® 2000 series, a product line that combines the power of the company's In-Sight vision systems with the simplicity and affordability of a vision sensor. Suitable for solving simple, error-proofing applications, these vision sensors set new standards for value, ease of use, and flexibility, thanks to the powerful combination of In-Sight vision tools, a simple setup, and a modular design with interchangeable lighting and optics.
The In-Sight 2000 series includes an integrated, high-performance image formation system consisting of field-interchangeable lenses and a patent-pending LED ring light that produces even, diffuse illumination across the entire image, eliminating the need for costly external lighting. Customers can easily swap out the lens and change the color of the integrated ring light as needed for their application.
Together with the In-Sight Explorer™ EasyBuilder® interface, which provides a fast, step-by-step application setup, the In-Sight 2000 series allows users to achieve reliable inspection performance in almost any production environment.
Companies in this article