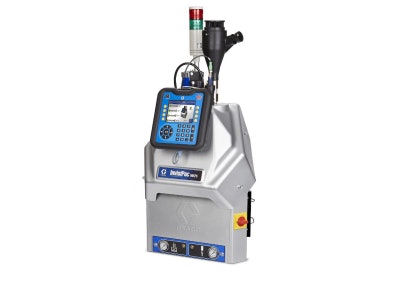 The complete system includes a vacuum feed system, in-line melt chamber, heated hose and Graco-designed applicator valve.
The InvisiPac is engineered with a tank-free design, which means adhesives spend less time at high temperature, significantly reducing char and its negative side effects. This results in superior performance, even from lower-cost adhesives.
The Graco InvisiPac uses an integrated vacuum system to feed adhesive pellets to an in-line melt chamber. A sensor monitors adhesive in the chamber, and additional pellets are automatically added as needed, based on the demand of the application. With its efficient heat transfer design, the InvisiPac System has adhesive throughput capability equivalent to many hot melt tank systems. The result is a continuous flow of adhesive during production that significantly reduces the time adhesive sits at temperature. Less time at high temperature means less char, less maintenance and more uptime.