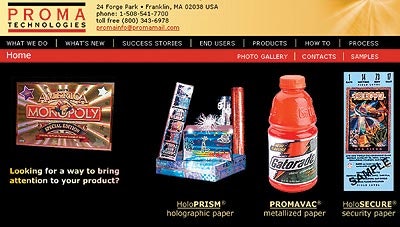 Cognex Corp.
Machine vision system evaluation capability has been added that enables customers to define their vision application parameters online.
Key Technology, Inc.
The homepage reflects access to updated features including Market Communities for buyers familiar with their needs, Processing Solutions for those not sure of what solutions they seek, and Equipment Marketplace where buyers can purchase lightly used demo equipment.
Oriental Motor U.S.A. Corp.
New Web site of motion control products offers quicker and easier navigation and more than 3ꯠ products for online purchase. Part numbers, products specs, and downloads of CAD and PDF files are available.
PROMA Technologies
The updated Web site includes new drop-down menus, easier
navigation, and new product information. Visitors can view a HoloPRISM® holographic package as it turns in motion.
Redlake
Site has been redesigned in structure, appearance, and contents to include image galleries, technical articles, and application stories. Users can also sign up to receive periodic e-mail newsletters on digital imaging.
Rennco Inc.
The totally revamped site has added video clips of machines in motion, helpful for end users and distributors. Site now permits downloads of forms and literature, and offers links to CAD drawings.
Sealed Air Corp.
Updated, interactive Web site offers more content, greater functionality, and is easier for customers to navigate. Presents extensive information about products and services, and for international regions via color-coded map.
Yupo Corp.
An expanded North America Web site features bold new graphics and enhanced navigation along with a new section devoted exclusively to technical papers. Case studies detail how the products have been "put to the test" in recent months.
Companies in this article