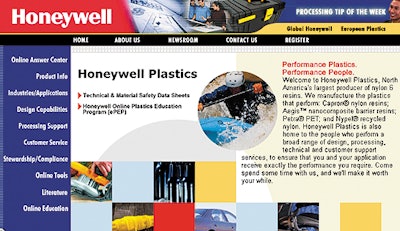 Honeywell Plastics
www.honeywell-plastics.com
Redesigned site provides more information on the company's Capron® nylon, Aegis™ barrier, Petra® thermoplastic polyester, and Nypel® recycled nylon resins.
Alcoa Flexible Packaging
www.alcoa.com/flexiblepackaging
New site offers information on the company's blister and pouch materials, shrink sleeves, cartons, and custom thermoforming capabilities.
Bayer Plastics
www.bayerplastics.com
Redesign makes the site more user friendly and adds the ability to e-mail PDFs about the company's polymers.eBottles.com
www.ebottles.com
Online catalog shopping for a variety of plastic and glass bottles, closures, sprayers, pumps, and tins.
Control Instruments
www.controlinstruments.com
Updated site offers easier navigation and an educational tutorial on gas detection.Flexographic Trade School
www.WeAreFlexo.com
New site offers information on training programs and tools for the flexo industry.
Gamer Packaging
www.gamerpackaging.com
Request a quote or get product information on this packaging materials distributor's redesigned site.
The Glennon Group
www.theglennongroup.com
In celebration of the company's 50 years in business, the new site highlights its labeling, marking, and packaging systems.
Companies in this article