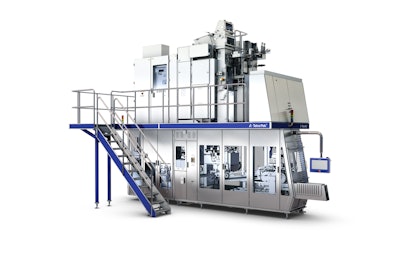 At its booth (#2403) at ProFood Tech, Tetra Pak Inc. showcased its full range of electron beam-based filling machines as well as unveiled two new aseptic carton sizes for the growing single-serve market for protein, yogurt, and energy drinks.
With the introduction of two new Tetra Pak® E3 eBeam machines, Tetra Pak now offers a full line of aseptic filling machines that use electron-beam technology for sterilization rather than peroxide. Said Charles Brand, Executive Vice President, Product Management and Commercial Operations, "The use of eBeam in the packaging material sterilization process is a ground-breaking first in the carton packaging industry. This will help the customer cut operational costs by as much as 20%, while reducing the environmental impact, making water recycling easier and lowering energy consumption."
With the full line of four machines, Tetra Pak says customers can now produce all types of beverage products on an eBeam-based filling machine, both ambient and chilled, and in family-or portion-sized packages.
The Tetra Pak E3/Speed Hyper—which Tetra Pak says is the world's fastest aseptic carton filling machine—is among the latest introductions to the range. The new machine runs at 40,000 ambient portion packs/hr, more than 60% faster than its next nearest carton packaging rival. Making this speed possible is eBeam sterilization, which completes the task more efficiently and more rapidly than has previously been possible, says Tetra Pak.
Also making its debut at the show was the Tetra Pak E3/Flex which will produce a new chilled family package, the Tetra Brik® 900 Ultra Edge. Says Tetra Pak, with a shape that is taller and slimmer than many family-size carton packages on the market, this innovation will help customers differentiate their products in the highly competitive chilled market.
The other two E3 machines in the line include the Tetra Pak E3/CompactFlex for chilled portion packages and the Tetra Pak E3/Speed for ambient family-size packages.
Added Brand, "eBeam is the future direction of the industry, and we will continue to expand our offerings to include more packaging formats and features."
On-the-go cartons feed snacking trend
For smaller-sized options of its aseptic cartons, Tetra Pak launched the Tetra Prisma® Aseptic 200 and 250 Edge—holding 200 mL and 250 mL respectively—with the DreamCap™ 26 closure, at the show. The company says the new sizes build on the success of its Tetra Prisma Aseptic 330-mL carton with DreamCap, offering consumers smaller size options with the same resealable one-step closure for an optimized drinking experience.
Quoting Ropert Reports Worldwide 2015, Tetra Pak says that more than 40% of global consumers are snacking while on-the-go at least once a week, with fortified milk, yogurt beverages, and energy drinks among their favorite choices. Note Tetra Pak studies, "Yet for some, a portion size of 330-mL or more may simply make them feel too full. This means huge market potential for portion packages under 250 milliliters, worldwide demand for which is anticipated to grow to 72 billion liters by 2019, up 10 percent from current volumes."
"Our customers need packaging solutions that can help them capture opportunities and maximize growth," said Brand. "Bringing two new packages to join the highly successful Tetra Prisma Aseptic 330 mL DreamCap is our latest answer to help them exploit the huge potential of the on-the-go market. We are very pleased to have already seen success with the early adopter customers."
Produced by PMMI, Anuga, and the International Dairy Foods Association, the inaugural edition of ProFood Tech runs through April 6 at Chicago's McCormick Place. The biennial show will make its second appearance March 26-28, 2019.
Companies in this article