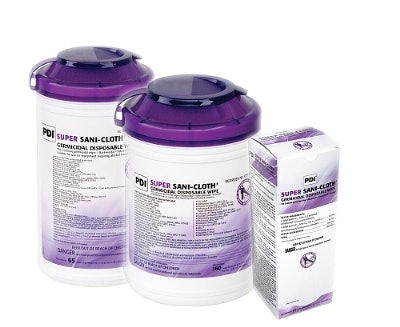 PDI, makers infection prevention products, along with SABIC, a provider of thermoplastic technology, announced the results of a joint study on environmental stress cracking resistance (ESCR). The collaborative evaluation explored the performance of SABIC's thermoplastics used for medical device enclosures during repeated exposure to PDI's Super Sani-Cloth® wipes (shown here), which are surface disinfectants widely used in the healthcare environment to help prevent healthcare-associated infections (HAIs).
Medical devices and equipment are subjected to repeated contact with hospital-grade disinfectants, but environmental stress cracking has yet to be explored in-depth. The joint PDI and SABIC study, completed in 2016, provides insights around the following areas:
• Disinfection guidelines and the link to compatibility
• Major causes of material incompatibility
• Importance of identifying correct materials for medical device housing and parts
• Compatibility of SABIC's chemically resistant healthcare materials, including LEXAN™ EXL (PC) resin, XYLEX™ (PC/polyester blend) resin and VALOX™ (PBT) resin
• Aspects of the application development process, such as polymer morphology, chemical type and concentration, frequency of cleaning and residual stress in molded components
• The crucial value of collaborative input between multiple industry stakeholders, including material and disinfectant manufacturers, to better understand and solve issues in compatibility
"Preventing HAIs is priority for PDI, and critical to that mission is helping to ensure medical equipment is properly disinfected and maintained. In order to better understand and address compatibility issues between healthcare devices and surface products, it requires equipment manufacturers, disinfectant manufacturers and healthcare professionals to work together," says Cheryl Moran, Senior Director of Portfolio Management, PDI Infection Prevention.
"Working with industry leaders like SABIC allows us to combine our expertise in disinfectants and the healthcare environment, with their extensive understanding of polymer chemistries, part design and molding considerations. The outcomes of a joint approach can ultimately benefit patients by better protecting them from potential harm caused by damaged or improperly disinfected equipment," says Moran.
The testing procedure followed ASTM D543 guidelines, and applied more rigorous compatibility criteria compared to frequently used industry benchmarks. Published by SABIC in its updated and expanded brochure, Resistance + Durability: Chemical Resistance Performance Testing for Healthcare Materials, the study section "Designing for ESCR," describes why following best practices in injection-molding processing and designs can be instrumental in reducing molded-in stress, a key contributor to ESCR performance.
"If materials are not appropriately chosen for the healthcare environment, frequent application of cleaning chemicals can cause device enclosures to crack prematurely, which can lead to increased maintenance costs for healthcare providers," says Cathleen Hess, Healthcare Business Leader for SABIC. "It's a cost that can and should be avoided. Our work with PDI will help customers make more informed material selection decisions to avoid compatibility issues and ensure the best HAI preventative actions are taken."
This study builds on PDI's Compatible by Design™ program launched earlier this year. The program seeks to ensure medical equipment can be frequently, safely and properly disinfected, using the products widely accepted in the healthcare environment.
In addition to its work with SABIC, PDI's own R&D team has conducted in-house compatibility testing and offers healthcare professionals valuable insights on selecting compatible devices and disinfectants. Stemming from its research to date, PDI offers a quick guide for healthcare professionals to ask equipment manufacturers the right questions when considering the addition of new equipment or assessing the current facility. Access the complete library of Compatible by Design resources here.