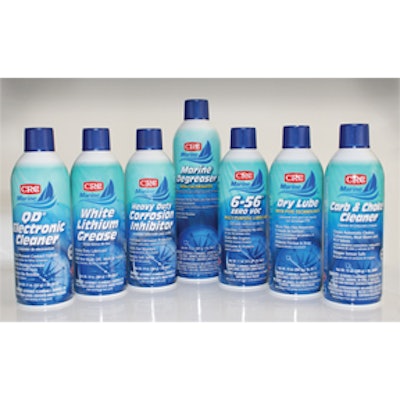 CRC Marine Products, Warminster, PA, produces specialty cleaning and corrosion-fighting chemicals for automotive, aviation, marine engine, and boat owner markets. In the fourth quarter of 2008, the company adopted new lightweight, polymer-coated steel aerosol can packaging, supplied and litho-printed by DS Containers (www.dscontainers.com), to package some of its marine cleaning/maintenance products.
The newly designed, reduced-carbon-footprint, two-piece aerosol cans sport an updated look and logo. CRC marketing manager Dori Ahart notes, "In re-staging this product line, we are responding to increasing consumer interest in the sustainability of all packaged goods. Our new containers are ten to fifteen percent lighter than traditional three-piece aerosol cans, use fewer raw materials, and contain more than 50 percent recycled steel."
DS Container's coil-to-can operation in Batavia, IL, produces up to 600 cans per minute and includes in-line printing in up to 8 colors. Each line is equipped with two high-speed decorators and a curing oven. In the case of a multi-product run like CRC's, while one decorator is printing, the other can be in changover mode, making for a leaner, more efficient process.
The aerosol products are filled using a 24-head Electromatic liquid filler from Packaging Technologies (www.oystar.packt.com). Caps for the cans are supplied by Berry Plastics Corp.(www.berryplastics.com)

Companies in this article