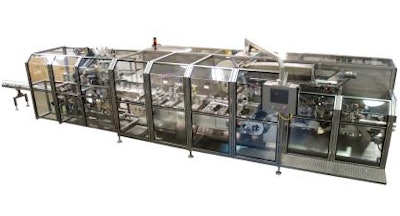 It's a vertical collating, continuous motion, full servo, horizontal cartoner with automated changeover, centralized lubrication, GMP design and bristling with scanners and sensors. And it will run multiple blister packs with up to two additional inserts at PACK EXPO in Z Automation Company's booth N-3436.
With a maximum mechanical speed of 300 cartons per minute, the cartoner will run 200 cpm in a single product configuration. In addition to 11 servos, the ELAU packaging automation solution also integrates 7 Schneider Electric stepper motors for quick tool-free, recipe-driven changeovers, plus AC drives and Magelis PC based HMI panel.
Operation
As blisters are received short edge leading from a form/fill/seal machine, they are reoriented 90 degrees for transfer into the vertical collator. The multi-axis servo driven collator has the flexibility to group multiple popular food, health and beauty product packs in each pocket.
The vertical collator has the flexibility to accommodate different counts of products as well as a wide variety of product dimensions with minimum changeover time. The collator also doubles as a small product buffer in the event the primary equipment is down.
From there, 2 rotary feeders place additional inserts, such as booklets and cards, into the dynamic product buckets, and a third rotary feeder places cartons onto the carton track. A servo driven overhead product loading unit transfers the product along with all the components into the carton.
Automation abounds
There are 7 automated adjustment points to accommodate different product sizes and configurations. Z Automation Company's patented dynamic product buckets reduce the need for product change parts while the servo driven phase adjustable carton cell chain reduces the need for carton change parts.
Adjustments made to accommodate the change in product or carton sizes are recipe driven and made via the HMI. By automating the adjustment points, the changeovers can be completed in 10 minutes or less. The GMP balcony design allows all adjustments for changeovers to be made primarily on the operator's side of the machine.
The Magelis iPC features full Windows™ XP that allows full access to the machine manual on screen. It also supports recipe management, Cognex bar coder scanner configuration software, a web cam with both visual and audio communication for remote diagnostics, and a Schneider Electric energy consumption gauge that reads energy output and tracks usage – earning the title of "green" machine.
The core control system enabling the cartoner's speed and precision is from Schneider Electric's packaging specialists, ELAU. Purpose-built for packaging, the ELAU automation system not only provides the synchronized motion, but manages the host of sensors and automated functions.
For example, bar code readers determine that the correct booklets and cartons are being placed by the rotary feeders, while sensors verify product and carton presence, correct product count and spacing so that product is in the proper orientation feeding into the vertical collator, and whether filled carton flaps are open or sealed. Once a problem is detected, three reject stations take care of business.
Two separate servos control the leading and trailing lugs on the carton cell chain, to assure perfect squaring as well as consistently accurate carton size changes. Servos also synchronize transfer of product from the collator, the product track, each of 3 rotary feeders, and an overhead product loading unit.
In addition, a centralized, automated lubrication system makes it impossible for maintenance personnel to miss awkwardly placed zerk fittings and an enclosed glue unit makes for better housekeeping.
About Z Automation Company
Founded in 1996, Z Automation specializes in providing packaging solutions to both simple and complex customer requirements by expanding beyond conventional methods of automation. A member of Packaging Machinery Manufacturers Institute (PMMI), ZAC is setting new standards in the areas of design, inventive solutions, and craftsmanship.
Z Automation's packaging designs provide significant benefits with respect to reliability and output efficiency. Everyday end-of-line packaging challenges are addressed by applying available technologies to packaging solutions in an effort to stream-line the mechanical and electrical systems.
For more information, visit
www.zautomation.com
or email
[email protected]
.
About Schneider Electric's ELAU Packaging Solutions
ELAU, Schneider Electric's packaging specialist, equips over $1 billion worth of packaging machines annually. Currently, over 40,000 purpose-built ELAU packaging automation systems are deployed in machinery worldwide.
Through ELAU, Schneider Electric is the only controls supplier with a dedicated business unit focused exclusively on the automation of packaging machinery.
The market demands packaging operations that are more flexible, efficient and sustainable to fulfill marketing, supply chain and global business strategies. ELAU innovations have enabled a revolution in mechanical, software and hardware modularity to deliver these agile packaging systems.
For more information, visit
www.elau.com
or email
[email protected]
.
Companies in this article