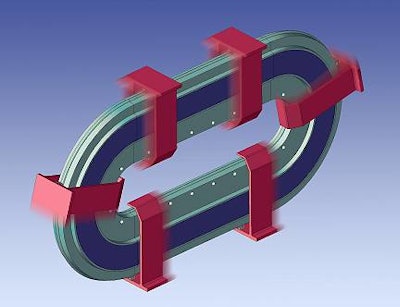 But unlike standard linear motors, which only work in a straight line, the PackTrak motor is not limited to straight-line motion. Its inventor, Jacobs Automation, describes it as "the future of packaging automation."
Like rotary servo motors, the PackTrak motor replaces mechanical cams and gears with electrical ones. But the rotary motion of rotary servo motors is still converted to fixed-pitch linear motion. And while speed is improved by rotary servo motors, it's still limited by chains, belts, and couplings. PackTrak eliminates the need to convert rotary motion to linear motion and it obviates the need for chains, belts, and couplings.
PackTrak's inventor, Keith Jacobs, claims that his direct-drive, moving-magnet curvilinear servo motor makes it possible for actuators to be independently controlled, allowing for
- change in pitch via software--no change parts needed
- on-the-fly adjustment to every package's individual variations
- unlimited dwell time for sealing applications.
Jacobs says PackTrak is suitable for collators, flow wrappers, vertical form/fill/seal baggers, horizontal f/f/s baggers, cartoners, and case packers. He plans to demonstrate PackTrak at Pack Expo Las Vegas. For more information, visit www.jacobsautomation.com. To watch an illustration of the PackTrak in motion, click here.