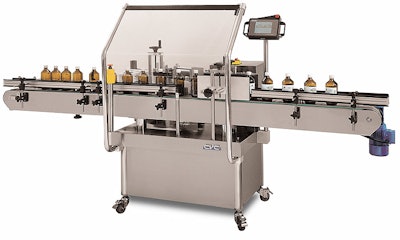 Headquartered in Fontana, CA, CVC Technologies, Inc. is a leading manufacturer and a worldwide distributor of a broad range of automated packaging equipment.
Through years of research and new advanced technology, CVC Engineers have perfected and patented their exclusive SelfSet™programming system. This is acclaimed as the most automatic, easiest to use, labeling "set-up" system in the packaging industry. It is so simple to use! Just place the new product container on the conveyor belt and press a button or touch a screen and SelfSet will synchronize the settings for a smooth performance. Nothing could be easier! It generates the settings for all moving parts including labeling speed and label position. In addition, it can store up to 50 jobs in memory. This is in sharp contrast to other labeling systems with old technology that requires many complicated hand adjustments. This means that a CVC Labeler can now be set-up and ready for production in 5 minutes or less. Compare this to up to a half hour or more with the old hand set-up method. In one working shift, which may have several product changes, it could save hours of time. Likewise, the operator's skills can be at a lower level for perfect performance.
The CVC 302 "Hawk"™ Automatic Labeler
The "Hawk" is often referred to as the world's most intelligent, automated labeler. Here is a perfect example of an automatic, wrap-around labeling system. It is equipped with bar code verification, detects and rejects bottles with missing codes, or incorrect labels, no labels, and wrong sized bottle. No other factory labeling system compares to the many automatic features of this unique system.
CVC offers a wide assortment of automatic packaging lines, or individual machines that are specifically recommended to meet the needs of each customer. A single source responsibility for a packaging line includes design service, on-site inspection for optimum layout, product testing, detailed packaging line proposals, factory acceptance testing, installation, training, one year limited parts warranty, and ongoing field service.
CVC 1220 Automatic Counting Machine with 100% Accuracy
Designed and co-manufactured by Cremer and CVC, this amazing new tablet counter and filler is now available for pharmaceutical packaging lines for counting and filling of all standard or irregular shaped products, plus it will handle all sizes and many other products.
A new automatic rejection system will insure 100% counting accuracy. Any incorrectly filled containers will be rejected from the conveyor. In addition, the computer memory can store up to 50 preprogrammed data and will instantly recall the data for set-up accuracy and efficiency.
CVC has a branch office in New Jersey to service the East Coast area. They also have distributors in key locations, plus offices in many countries around the world. Therefore, their machinery is sold worldwide. By combining top quality with automation, value pricing and unmatched service, CVC has become a leader in the packaging equipment industry.
Companies in this article