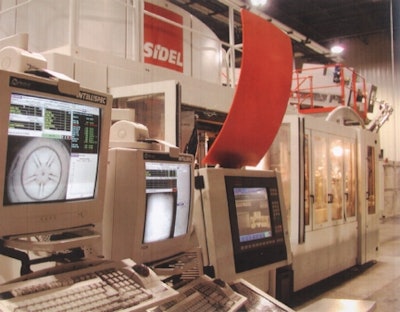 Sidel will become the exclusive distributor of Pressco's integrated inspection system for blow molders in Europe and Asia. This agreement continues an already long-standing collaboration between the two companies. (Shown above is a typical Pressco inspection system integrated with a Sidel blow molder.)
At a press breakfast and briefing in Chicago on June 24, Sidel president and CEO Gerard Stricher said that the alliance with Pressco will strengthen Sidel's ability to provide machines that produce better-quality PET containers at lighter weights and faster production speeds for the lowest possible cost.
"We've just about reached the limits on making faster machines and on downgauging of PET bottles," said Stricher. "So where will future cost savings come from? We think from improved process control," the kind of control, he added, that can be achieved throgh Pressco's vision technology.
Pressco's Thomas O'Brien, vp marketing and sales and new business development, believes it's time for machine vision inspection systems to do more than merely detect a bad container and see that it gets kicked off the line.
"We need to get beyond a simple go/no-go," said O'Brien at the NPE press briefing. "We want to gain knowledge about the process so that we can minimize downtime by knowing where a problem is. Let's find processing flaws and correct them rather than just kicking out bad bottles."
In other comments at the press briefing, Sidel's Stricher emphasized how important it is for suppliers like Sidel to provide customers with turnkey solutions. Acknowledging that labeling equipment is conspicuously absent from the broad array of packaging equipment currently available from Sidel, Stricher indicated that Sidel will soon take steps to add labeling equipment to its offerings. When asked if it would be by acquisition, Stricher declined to be specific.
Stricher also hinted that additional improvements in Sidel's Actis® barrier coating technology are underway, improvements aimed at reducing cost. The Actis system involves a thin layer of amorphous carbon applied to the inner walls of the container. When asked about the Glaskin™ barrier technology available from Tetra Laval, which recently bought Sidel, Stricher said, "Glaskin is a fantastic barrier. But any technology based on silicon oxide is going to be expensive. We're not saying Actis is better than Glaskin. But we are saying Actis is likely to be more cost-effective."
Stricher made it very clear that the whole area of barrier coatings for plastic will remain a priority at Sidel. He also noted that being part of Tetra Laval, "a firm known for its long-term vision," can only help Sidel be persistent, patient, and, eventually, successful with barrier coatings. "It will come," said Stricher.
Finally, Stricher expressed his confidence in the future of aseptic filling of PET. "It's still a fairly new technology," he noted. "Some players will stay, some will go. But the technology will improve and installation costs will come down."
Companies in this article