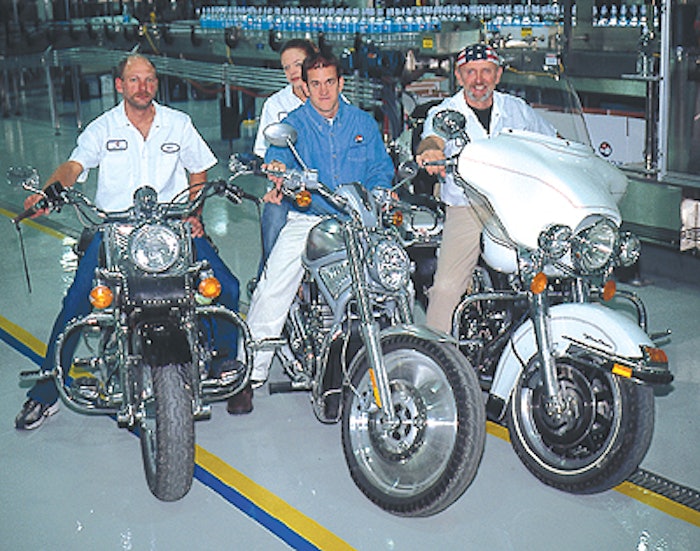 PW: How did you equip your new PET line?
Hegsted: A trip to Pack Expo 2000 in Chicago showed us all the major pieces of equipment we needed. Matter of fact, three of us were back in Chicago for the 2002 show. But I come out of the sawmill business. I also spent six or seven years as a roustabout servicing oil rigs on the North Slope in Alaska. In those environments, we often found ourselves modifying equipment to meet our needs. So it makes sense that I'd find some areas in this PET line where I'd want to design and manufacture the solution we needed right here in our shop. Our plant manager Mike Couch happens to be a great welder, which helped a lot. It also helps that we communicate as well as we do. All I have to do is describe what I want done and he makes it.
PW: Can you give me an example of the gear you made in-house?
Hegsted: We built an enclosure of plexiglass and stainless steel that bottles pass through as they convey toward the filler. This minimizes the chance of bacteria entering the bottles after they emerge from the rinser.
PW: Any other areas where your in-house shop came in handy?
Hegsted: We're about to make a slight modification to a conveyor section just ahead of the bottle rinser. The problem we have is that because these bottles are so light, they have a tendency to fall over if any gap develops in the flow of bottles. And of course when a bottle falls over we have to have someone run over and set it back up or clear it out of the way. What we're going to do is cut away a small section from the sidewall of the conveyor. Opposite this we'll install an air cylinder that will be triggered every time a down bottle is detected. The air burst will gently remove the bottle from the conveyor without requiring operator intervention. —PR
Companies in this article