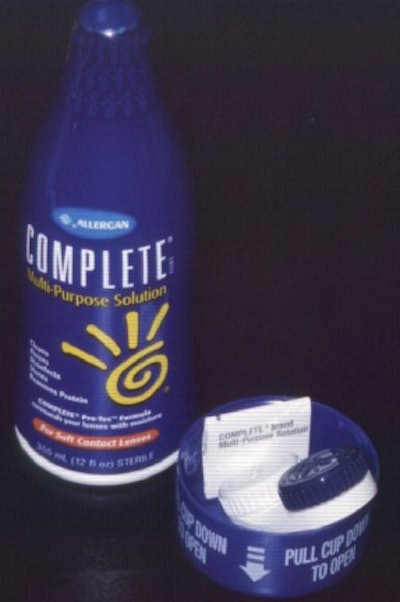 Allergan Rocket Bottle Best of Category - Health & Beauty Aids Best of Show The Allergan Rocket Bottle introduces to the eye-care market a cartonless package including a flip-top closure with a living hinge and a full-body shrink-sleeve label. Supplier:Not available Click here for previous PW coverage.
Motorola Product Inserts Best of Category – Electronics and Molded Pulp Award Five inserts, three sizes, made from 100 percent recycled newsprint, replace hundreds of pack variants slashing costs, increasing pallet counts and reducing packing cycle time. Total protection with minimal material. Supplier: Brodrene Hartman A/S Phone: 800/321-9647.
Signature Riser Package Best of Other Category Best of Transport Package The packaging process created a bottleneck in manufacturing and the design did not provide adequate protection. A new design reduced materials, labor and a dramatic reduction in freight damage. Supplier: Wenger Corp. Phone: 507/455-4100.
GOJO ® Natural*Orange™ Half-Gallon Package Best of Category – Household 3M Integrity Packaging This package redesign increases top-load strength by 50 percent, reduces cost by 25 percent, and decreases material by 23 percent for an overall source reduction in excess of 55ꯠ pounds of PVC annually. Supplier:Not available
Melitta 603 Valve-Pak ™ Canister Best of Category - Beverage Canister sports a peelable membrane top that's both easy to open and preserves the just-roasted flavor. Supplier: Sonoco Consumer Products Co. Phone: 843/383-3333.
Hidden Valley Easy Squeeze Best of Category – Food Convenience and innovation in food packaging with a unique silicone valve that facilitates dispensing the right amount. An inverted bottle orientation ensures immediate dispensing, and an extra-wide, flip-top closure enhances stability. Supplier: Clorox Services Co. Phone: 925/425-6931.
Vac-Intact™ Best of Category - Industrial/Commercial The vacuum integrity indicator is presented in a thermal shipping container application. The super-insulated capability of vacuum is only as good as the vacuum that is present in the specially designed panel walls of the container. The Vac-Intact™ button provides a quick visual reading of the vacuum level for the end user providing assurance of protection for temperature sensitive products. Supplier: Tuscarora Inc., ISC Group Phone: 602/484-9745.
Orthopedic Implant Skinpackage Best of Category - Medical Device Skinpacked sterile inner blister component of double blister orthopedic implant package. Reduces packaging cost and time by up to 50 percent over conventional double blister package. Reduces inventory dollars and volume. Supplier: Ivex Technical Packaging Phone: 630/668-2838.
Microsoft Office 2001 for Mac Best of Category - Other Retail Microsoft's new software packaging specifically for the Macintosh user. It's innovative, cost effective, and environmentally friendly. Supplier: Radius Product Development Phone: 978/368-3200. Click here for previous PW coverage.
Bioguard® Mineral Springs™ Beginnings Best of Category - Outdoor & Gardening The Bioguard Beginnings package represents a replacement from conventional rigid plastic tub containers of pool chemicals to a clear flexible pouch that imparts numerous manufacturer, retailer, consumer and environmental benefits. Supplier: Valeron Strength Films Phone: 713/462-6111.
MEMS Cap Best of Category - Pharmaceutical and Drug The MEMS cap increases patient adherence and compliance to therapeutic regimens. The cap consists of an electronic monitor with an LCD display that records each time the container is opened or closed. Supplier: Abbott Laboratories Phone: 847/937-9014.
Proprietary Protective Combination Package Best of Category - Regulated Packaging To solve the problem of damaged 5-gallon steel containers during transit that contain polyurethane Adiprene®/Vibrathene® resins, a UPS Certified corrugated carton/proprietary polyethylene foam insert package system was developed for shipping individual 5-gal/20-L steel pails. The system eliminates damage of the 50-lb container that typically collapses under impact under its own weight. Supplier: Crompton Corp. Phone: 203/573-2385.
For more information, try instant searching our site (located at the top of this page) or go to www.iopp.net
Companies in this article