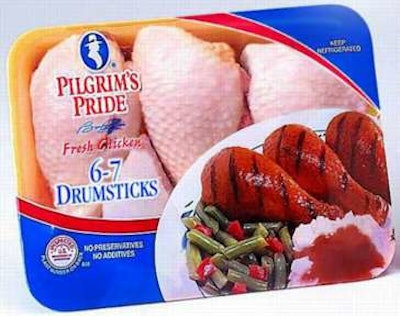 Dallas, TX-based Pilgrim's Pride brought its fresh chicken products to stores nationwide in September 2000 with a new look and package. "Eighty percent of the consumer complaints were regarding leaky packages," Pilgrim's Dan Emery tells Packworld.com. "We worked real hard to solve that problem with the new package."
"We also felt that with the new print technologies, we could give consumers a more appealing package," says Emery. The designs are process-printed flexography in seven colors by Robbie Manufacturing (Lenexa, KS). Graphics carry the traditional Pilgrim's look with the addition of a plate of freshly cooked chicken.
Pilgrim chose a 60-ga, Cryovac® shrink film from Sealed Air Corp. (Duncan, SC) for its packaging needs. Pilgrim's stretch and shrink horizontal wrapper machine from Ossid (Rocky Mount, NC) was modified at the sealing end for the new packaging.
All 69 stock keeping units of Pilgrim's chill pack line-up are being converted to the new packaging.
Bag promo's meats
Another meat processor, Carlson of Albert Lea, Jonesport, ME, introduced its new line of Crossroad Farms fully cooked frozen meats in June. Carlson was unavailable for comment on packaging details.
Carlson chose to use a wicketed PromoBag® from Robbie, made of a 75-ga, Clysar® shrink film from DuPont (Wilmington, DE). The graphics are also process-printed flexography in six colors by Robbie. The design creates a window that looks like a crossroads and allows consumers to see the product inside.
Reportedly, the packaging strategy was to differentiate through packaging style by inserting a foam tray from Pactiv (Lake Forest, IL) into the PromoBag. The bag contrasts with the rows of folding cartons normally found in the frozen section at stores nationwide.
Among the Crossroad products packaged in the PromoBag are 12-oz packages of breakfast sausage links and patties, breaded chicken nuggets and patties, and breaded beef patties.
Neither Cryovac or DuPont specified what type of films were used, but both films are in the polyolefin family.
Companies in this article