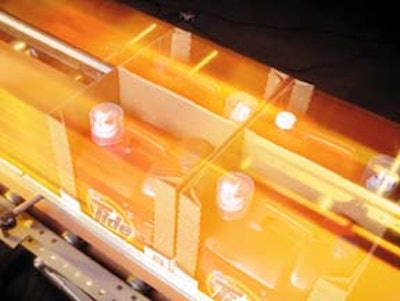 com/go/press) brought new packaging equipment to the bottle's blow molder, Plastipak Packaging (Plymouth, MI).
In stores, the unusually large bottles, blow-molded of high-density polyethylene, are displayed in two-count corrugated display trays. An H-style divider with four triangular corner posts provides maximum stacking strength without requiring that the entire case be made of costly multiwall corrugated. Automatic formation and insertion of this divider is executed by a machine developed jointly by P & G, Plastipak and machinery builder Pearson Packaging Systems (Spokane, WA).
Pearson's Stack Pack™ Model YH1900 system has a rated speed of 30 trays/min. It takes flat blanks of single-wall corrugated and automatically folds them into H-style partitions. In the process, it forms and hot melt-glues the four triangular corner posts. Also, the center of the "H," which forms the backbone of the partition, gets doubled. This adds greatly to the finished tray's stacking strength.
After the partition is inserted, empty bottles are placed in the tray (shown above) for transport to an in-tray filling station. Presumably, blow-molding and filling operations occupy the same building or are done on a through-the-wall basis. Plastipak doesn't say which.
One filled Press-Tap container weighs 23 lb. At the point of purchase, trays are stacked four-high. The partition is easily lifted out of its tray for maximum bottle-display impact. No lid is required on the tray.
P&G's handled Press Tap jug comes in varied colors for Tide®, Cheer® and Era® liquid detergents. Product is dispensed by simply pressing a button on a valve, so lifting is eliminated once the jug is placed on a counter.
Companies in this article