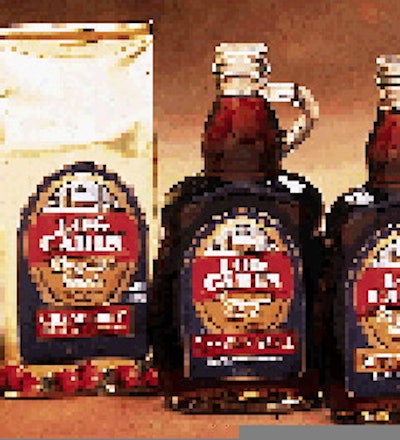 Like many product launches, the packaging of Premium Blends plays a key role. "Great packaging will reinforce the upscale brand image on the grocery shelf and in the home pantry," Yuhas says.
The 1-lb pancake mixes are packaged in a flat-bottom bag folded over and sealed with a tin tie. The bag material from Printpack (Atlanta, GA) is 48-ga polyester laminated to a two-layer lamination of 0.000285" aluminum foil, which gives the bag a shiny gold appearance, and 3-mil proprietary sealant film. Printpack reverse-prints the polyester flexographically in eight colors. At a contract packager's plant, the bags are made on a vertical form/fill/seal machine and conveyed through a tin-tie applicator.
Yuhas says he shied away from the traditional paperboard box because Premium Blends is not an ordinary pancake mix. "We thought about what is out on the marketplace that portrays premium, and that gold foil bag did the trick."
The stock glass bottle for the syrup is supplied by Consumers Glass (Etobicoke, Ontario, Canada). The pressure-sensitive, 60# paper label is printed via rotary letterpress in six colors plus a UV varnish by Syracuse Label (Liverpool, NY). As with the pancake mix, a contract packager handles filling.
The pancake mix retails for $2.99, the syrup for $3.99. In May, Aurora Foods started shipments of the Premium Blends for testing in New England and the Ohio Valley.
Companies in this article