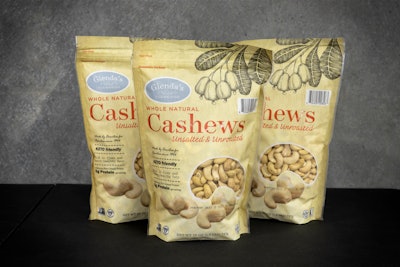 Mettler-Toledo Safeline
When one of your largest retail customers tells you they want you to start packaging your products in addition to processing, you're not likely to say no. You find the equipment needed and step up your game.
This is the situation that Andersen & Sons Shelling—a fourth-generation, family-owned-and-operated nut producer founded in 1904—found itself in a few years ago. Andersen produces a variety of tree nuts that go to market nationwide, as well as internationally, under both private labels and the company's own Glenda's Farmhouse brand.
"Prior to 2017, we were sending all our nuts in bulk to contract packers that produced retail packs for our customers," says Mike Andersen, owner and vice president of sales at Andersen. "When one of our biggest retailers told us they were having problems with their contract packer, they asked us to start private label retail packaging our nuts in addition to processing."
At its facility in Vina, Calif., Andersen handles walnuts, almonds, macadamia nuts, cashews, hazelnuts, pecans, and more—in roasted and salted varieties as well as flavored products—packaged into a variety of retail packs. The company has recently been growing 15-20% per year, and now processes about 125 million lb of nuts annually.
Moving to filling those retail packs in-house required not only Andersen's first retail packaging lines; the company needed to rethink how it was handling inspection as well. Graders and optical sorters were (and still are) being used further upstream in the process, but adding X-ray inspection after packaging was an essential step to ensure product safety for consumers.
Finding the rocks
"Rocks are a huge concern in our industry. When harvesting nuts, each tree is shaken so the nuts fall on the ground and are then mechanically gathered. But inevitably, some rocks get scooped up as well," says Mallory Daily, food safety manager at Andersen. "This means that a metal detector won't cut it now that we're responsible for ensuring final product quality on retail packs."
X-ray technology is even more essential in certain situations. "The medium pieces of walnuts are more prone to having smaller rocks that are more difficult to detect with optical sorting and can't be detected with metal detection," says Ryan Bughao, director of operations at Andersen. "So having the X-ray in line helps definitely reduce the amount of foreign materials that are getting out to the end users."
---
---
Andersen purchased its first metal detector from Mettler-Toledo Safeline more than 20 years ago, and now works only with Mettler-Toledo for its inspection equipment, Andersen says. So when it came time to get X-ray equipment, it was Mettler-Toledo that the nut producer called on again. "We bought four Safeline X33 X-ray systems over the last few years," Andersen says. "Then in 2021, our sales rep, Neil Ertmer of Bay Area Packaging, recommended the advanced X36 for our new retail line."
After the nuts come to Andersen from the grower, they go through a sorting and sizing process, along with removal of foreign material that's inherent from the field, Bughao describes. "Then they all go through a pasteurization step and then go to the packaging equipment to get packaged into the pouches," he adds.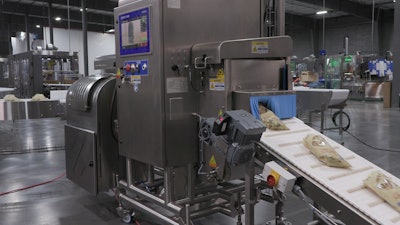 Andersen's new X36 X-ray inspection system is installed on a retail packaging line inspecting nuts in polyethylene pouches of 8 to 40 oz. The X36 can inspect up to 125 packages per minute, but Andersen is currently averaging 58 packages per minute. Good products are conveyed downstream to be cased, palletized, and shipped out, while any out-of-tolerance bags are removed from the line with a Mettler-Toledo pneumatic pusher reject device and then inspected by Andersen's quality control team.
High inspection sensitivity
The level of detection of the X36 is superior to the X33, according to Bughao. "Tree nuts are a particularly difficult product for most X-rays to inspect because their density is so close to that of a rock, which is our biggest foreign material concern. We've turned our X-ray systems' sensitivity way up so we can detect even the tiniest stones and other small foreign material," he says. "The X36, in particular, is incredibly effective. It's able to find contaminants far beyond most other systems on the market. Once it even found a tiny wire that a nut had grown around. We were so impressed."
With the sensitivity turned up so high, it's important that the settings of the inspection system are tuned in to the nuts being tested to help avoid false positives. "You just have to pay attention to your settings and make sure they're set how the Mettler technician recommends and set up during commissioning," Bughao explains, noting that rejects will go through the system again. "We pass them through a couple more times, just confirming that they're actually foreign material, and then they get dumped and hand sorted to find what the foreign material is. This allows the team to challenge the X-ray and look at upstream processes to see what can be changed to prevent that from even getting that far down the line."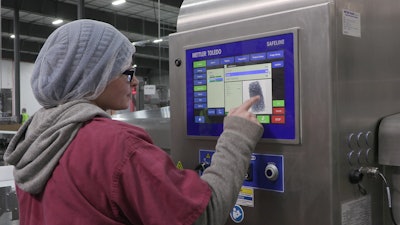 Daily adds, "If one of our X-ray systems starts identifying lots of rocks or other foreign material, it alerts us to look for the source—whether the issue is coming from a supplier or upstream line equipment—and address the problem."
Driven by recipe-based programming, the X36 has separate recipes for each type of product in each package size to ensure the most accurate inspection. It takes only a couple of minutes to select the right recipe, calibrate, run the test strips, and start up the line. The X-ray system is password protected with different levels of access to ensure a worker doesn't accidentally change the sensitivity or another setting.
One of the benefits of the X36 over previous models, Bughao says, is an enhanced user interface that is more natural to the operators. "The X36 is easy to operate," he says. "Anyone who has used a smartphone can operate the intuitive touchscreen display. It even shows an X-ray image of each rejected bag with a little square depicted around the out-of-tolerance section, so our QC employee knows where to look when they open the bag."
Andersen's packaging room can reach over 100°F in the summer, so the nut producer added an optional Mettler-Toledo air conditioning unit to its X36 to ensure that it would continue to run for long hours even in very hot temperatures. "We haven't had a single overheating issue on our X36, which is no small feat considering the challenging environment," Bughao says.
Adding more X-ray
With demand for its products continuing to grow, Andersen & Sons is currently building a 900,000-sq-ft facility, giving the company room to add more retail packaging lines, Andersen says. "We've already purchased another X36 X-ray system for the new facility to inspect final product quality," he says.
Although there is a trend among food producers to add more inspection systems further up the line, for now, at least, it makes sense for Andersen to keep X-ray inspection after packaging, Bughao says. "The smaller the package—or the smaller the aperture that you're looking at—typically the more reliable your X-ray is going to be," he explains. This is true for smaller retail packages, but might not be the case for bulk packages. "There are certain packages, like 25-lb or 30-lb packages, where it is more advantageous to inspect along a conveyor belt than in that single package, because now you can get a better picture on the belt."
Companies in this article