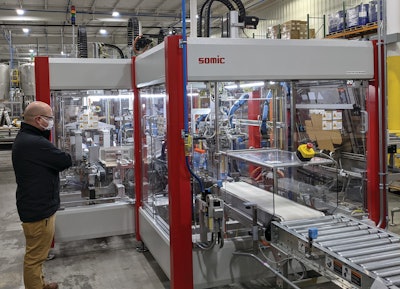 In business since 1926 and headquartered in Secaucus, N.J., Hartz Mountain Corp. offers 14 well-known brands of products for dogs, cats, birds, and fish. Its facility in Pleasant Plain, Ohio, recently witnessed the installation of new compounding and packaging capabilities for its liquid pet shampoos that included a very capable packaging line.
Seven different bottle formats—an even split between HDPE and PET—are run on the line. Some bottles get pumps and others triggers, while a third group gets a press-on cap. Cases, too, are varied, as both a standard wraparound case and a Retail Ready format are run on the line. But Hartz Engineering Manager Jake Wojtkiewicz is just as impressed with the Somic 424 case packer's footprint as he is with its versatility.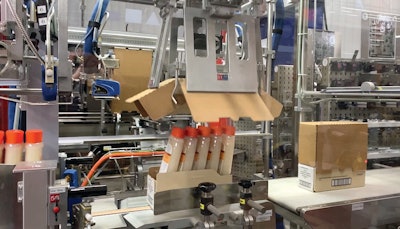 "To be honest I was not that familiar with Somic until we went into this project," says Wojtkiewicz. "We looked at a number of other options and saw some very good equipment. But when it came down to the amount of space required by the Somic machine combined with its versatility, it was very impressive. Plus the machine is very open and accessible. It's a novel setup for a case packer, at least from my experience it is. I'm more used to a giant chain running down the middle and a bunch of tuck arms and all that. With this machine everything kind of gets folded all at once in two different stations. There's just not that many steps to the folding process before the bottles are in and the case is being discharged. A lot of it has to do with its servo technology. Everything is done at the HMI, so you're not loosening bolts or adjusting belts or sprockets.
The first piece of equipment in the line is an
Omega Design bottle unscrambler
that Hartz already had on premise and had Omega rebuild. Then bottles move into filling, then pump or trigger insertion, and capping equipment—all supplied by
Weightpack
.
"It's basically three machines in a row," says Wojtkiewicz. "If we're not running bottles that take pumps or trigger sprayers, the bottles just run straight past the middle unit to get to the capper." One advantage of having three separate machines is that changeover from pump or trigger spray to press-on cap can be scheduled in such a way that the filler is always running. When it's necessary to change from pump to trigger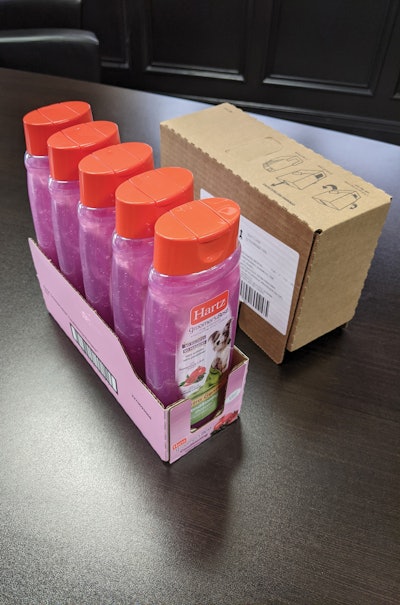 spray, the filler feeds the press-on capper.
Net-weigh filler
Bottles enter the first Weightpack machine, a 24-station rotary net-weigh filler, by way of a feed screw that delivers bottles to one of 24 platforms on the filling carousel. Each platform has its own load cell, as filling is done by weight. "The fill accuracy is really impressive," says Wojtkiewicz. "We're at about a half gram standard deviation, which is fantastic for shampoos."
Unlike many liquid fillers that fill by weight, there is no tank onboard the machine. The product is delivered by way of a volumetric pump drive. One advantage to this approach is that the Clean-In-Place routine is reduced when there are just tubes to be cleaned and no tank. "Not only does it mean one less part to clean," says Wojtkiewicz, "it's less water that we have to pay someone to take away."
Also, the liquids run on the line range from viscous to watery. According to Weightpack Sales Director John DeFayette, the volumetric pump drive is best suited to handle all varieties with the same accuracy.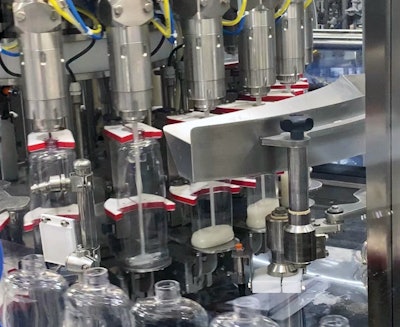 Containers exit the filler by way of a star wheel exchange that places them on what DeFayette calls a 12-head stretch carousel. "It pulls the pump or trigger spray up to straighten the dip tube," explains Wojtkiewicz. "Then the part is pushed into the container, so the tube is in and the part seated on the bottle's neck finish before it even reaches the next carousel, which is where torqueing is done." The torqueing carousel, which has nine stations, is also servo driven so there are no pulleys or cables involved as there would be if the machine were driven by mechanical linkages.
---
| | |
| --- | --- |
| | Read about the global pet food market and download a FREE PDF "Trends and Drivers Impacting the Pet Food Industry" |
---
Bottles that get neither pump nor trigger spray move directly from the filler to the eight-head rotary capper that applies a 23-mm press-on flip-top cap. Injection molded of polypropylene by Berry Global, the caps pass through a Cognex vision system that looks at the orientation of each cap as it's fed in. If it's oriented wrong, the capper gets a signal to rotate it 180 degrees.
Exiting the Weightpack system, bottles go through a dual-head Herma pressure-sensitive labeler. It applies either wraparound or front-and-back labels. Supplied by Valley Forge Tape and Label, the labels are either paper or plastic film. Some are of the fold-out extended text variety, too, so that additional usage information can be conveniently included. Immediately after the labeler is a Keyence continuous ink-jet coder that puts date and lot code information on the label.
'Remarkably robust'
"As we started to evaluate coding equipment we found that the Keyence machinery was remarkably robust," says Wojtkiewicz. "It also has this smart dock system that was very attractive. Anytime we're not running the line, we plug the print head into this smart dock and it basically goes through all of the preventive maintenance of rinsing the head off and checking the flow and all that. So it's functionally hands-off. Or, if we do experience any issue with clogging, we plug it into the dock for a five-minute cleaning cycle. It's one of those machines that requires very little operator intervention."
---
| | |
| --- | --- |
| | Read this story about the first pet food brand to join Loop. |
Next in line is an EDL shrink bundler that groups bottles in bundles of three in clear shrink film. "Our customers request this," says Wojtkiewicz. "They don't necessarily want to bring an entire case of 12 out to the shelf each time, and the bundles make restocking easier." He also notes that this bundle format is what's used for all wraparound cases.
But when the firm is running Retail Ready packaging, which involves a corrugated tray plus corrugated lid, bottles bypass the shrink bundler and are packaged on the Somic 424 case packer in a five-count format.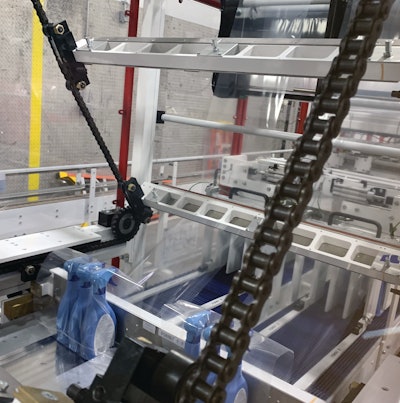 The photos accompanying this story show the 12-count wraparound case in production. Flat blanks are pulled from a magazine feed by vacuum cups and advanced a short distance to the loading station. Along the way the blanks pass a Nordson adhesive applicator. Incoming three-count bundles of bottles each are grouped in a staging area and when four bundles are in place, a pusher advances them onto a flat blank. The tooling wraps the corrugated case around the bundles. Then the filled case is advanced to the next station for flap closing and discharge past a Domino C6000 large-character in-jet printer.
Wojtkiewicz says 150 bottles/min is the sweet spot on the new line, which has been running since mid-December and now typically runs for a 10-hour shift five days a week. "Once you start looking at speeds much higher than that," he notes, "you're looking at a considerable price jump. We're very proud of the setup we installed. It was a huge undertaking, especially in the middle of what became a global pandemic shortly after we got started. Somehow we managed to keep everything more or less on track and hit our targets. In the future we will probably automate the palletizing, but for now we're very pleased with where we're at."
Companies in this article
Videos from Nordson Corporation