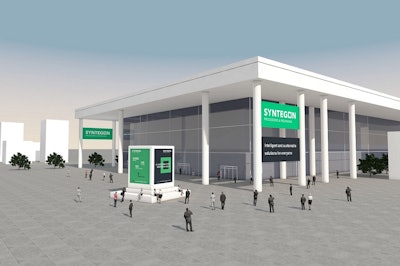 The processing and packaging industries—and the world—are experiencing enormous changes as a result of megatrends like the coronavirus pandemic which has social and economic implications, and a sustainability call-to-action that puts pressure on corporations to do their part to protect the environment.
In times like these it requires business agility and operational flexibility, and Syntegon Technology is quickly becoming an expert at both.
The company has recently gone through its own mega transformation when, in January, it announced the global launch of a new brand. Syntegon Technology, formerly Bosch Packaging Technology, a division of Bosch Group, was acquired by CVC Capital Partners at the end of 2019, becoming an independent company headquartered in Waiblingen, Germany. Shortly thereafter, in March, Dr. Michael Grosse was appointed as the new CEO. Grosse was most recently a member of the management board of Tetra Pak, and has an extensive background in mechanical engineering for the food industry, as well as new product development and global services.
Syntegon is an OEM that caters to the food and pharmaceutical industries, providing a variety of processing and packaging machines, as well as robotics and advanced technologies ranging from track and trace to Industry 4.0 to hygienic design, and more. At the center of it all is a commitment to sustainability, which is a major theme at the company's virtual show that opens today and runs through May 13th. The online exhibit serves as a platform to showcase the company's latest innovations—including the unveiling of a new machine design—scheduled to be on display at interpack 2020, which was postponed until 2021 due to the COVID-19 crisis.
"Syntegon stands for synergy, technology, and a focus on the future," said Grosse in his opening remarks this morning. "The new corporate color green underscores the importance of sustainability and health. These aspects are also reflected in our new machine design, which we are presenting here at our virtual trade show for the first time."
An important feature of the new design is a user-friendly interaction zone highlighted in white. It creates a clear user interface and generally makes the machine easy to operate. Elements of the new design include the optimized human-machine interface (HMI), the logo, which is seamlessly integrated into the surface, the type designation, and a status indicator. In the future, it will be possible to integrate additional components, such as a wireless charging station for tablets that can be used to run augmented reality service programs. The new machine design is also easier to clean, which further improves hygiene.
The health of industry
Grosse kicked off the virtual show by providing a glimpse into the company's own health, noting for its 2019 fiscal year it generated annual sales of 1.33 billion euros, which was slightly above the previous annual figure. As a result, performance remained stable despite a downturn in the mechanical engineering sector.
Of course, a lot has happened since the end of 2019, specifically, the pandemic, which has greatly impacted Syntegon's customer base. "Our customers are companies in the pharmaceutical and food industries," said Grosse. "They are experiencing particularly high demand during the corona crisis and in many cases have ramped up their production. In order to support them, Syntegon has expanded its customer service activities and introduced new measures. These include increased spare parts deliveries and providing customer service via digital solutions."
To that end, conducting business digitally and virtually is a trend that has worked well for the company to date, and may be here to stay. "We have been conducting key meetings within the scope of customer projects virtually for some time now, including model presentations and factory acceptance tests," Grosse said.
In pharma, Syntegon offers a comprehensive range of solutions, from individual machines to complete lines for every stage of the process in the development, production, filling, inspection, and packaging of liquid and solid dosage forms. Pharmaceutical variations and dosage forms are becoming more and more versatile and increasingly specialized drugs are being produced in smaller quantities for smaller patient populations. In addition, pharma is playing a critical role in combating the COVID-19 crisis in the form of finding vaccines while also continuing to manufacture drugs to treat sick people, including painkillers, antibiotics, narcotics, or drugs to relax patients' muscles during artificial respiration.
"Syntegon is aligning itself with these market developments," said Uwe Harbauer, member of the executive board, pharma, at today's virtual press conference. "Using our highly flexible systems, which can enter production without long lead times and are designed for future modifications, our customers quickly bring new products to market. Our modular systems with fast delivery times and efficient start-up processes also allow companies to adapt dosage forms, product formats, speed, and volumes at short notice."
In the food segment, Syntegon provides packaging for dry food, such as bars, baked goods, and coffee, as well as frozen food and dairy products. The company has noticed an increase in product variety in the double-digit percentage range for some time now, noted Clemens Berger, member of the executive board, food. In addition, consumers and retailers are increasingly demanding regional, seasonal, and specialty products, such as organic, vegan, or gluten-free foods. Products are becoming more heterogeneous in terms of shape and texture, which increases the need for flexible feeding or handling systems.
"And e-commerce is growing rapidly, particularly in Asia – with growth rates of 20%," Berger said. "As a result, demand for smaller quantities is increasing within the context of small orders. Existing shortage of skilled workers and rising labor costs are leading to increasing automation. We expect that the market demand for robot solutions to more than double in the coming years."
Sustainable solutions
During the Syntegon virtual show which takes place from May 7-13 and is free for online attendees, there are numerous talks, interactive chats with customers, and presentations on new product innovations including its new TPU paper form, fill and seal machine for fiber-based primary packaging. Manufacturers of food, hygiene products, and cosmetics, for example, can use it to produce a predominantly fiber-based packaging solution for their disposable and single-serving packs that were previously packaged in plastic. In combination with the special FibreForm paper from paper manufacturer BillerudKorsnäs, the machine forms structural shells that stand out on store shelves and can be completely fed into the paper recycling process.
Syntegon offers retrofit kits that can be used to modify existing systems for use with sustainable materials as well as comprehensive advice on environmentally-friendly and efficient packaging processes. One innovation in this field is the "paper-ON-form" retrofit set for horizontal flow wrapping machines, which can be used to process cold-sealable and heat-sealable barrier papers. The set consists of a flow-wrap forming unit and sealing jaws specially designed for the packaging paper. It is already being used on global chocolate manufacturers' systems to package their products in paper.
In addition, Syntegon is collaborating with partners on other approaches, like new kinds of materials such as transparent paper which can expand the range of applications for fiber-based packaging – like paper bags with a window, for instance, or replacing plastic trays for cookie packaging with paper solutions.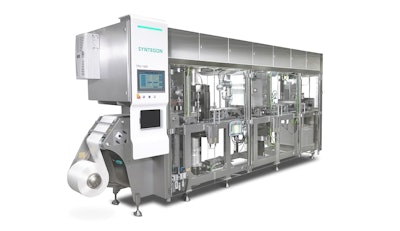 Intelligent solutions
The new flexible filling portfolio for liquid pharmaceuticals is another highlight of Syntegon's virtual trade show. The individually configurable, modular machine concept for processing small and medium-sized batches is the intelligent answer to the growing demand for drugs for smaller patient groups. Whether syringes, vials, or cartridges – pharmaceutical manufacturers can select the individual modules they require to create a filling line tailored to their specific needs, including a built-in isolator for aseptic and highly potent active ingredients. At the same time, valuable data can be obtained which, thanks to new software solutions, can be used for tracking and to enhance product safety.
Syntegon is also unveiling its new Sepion coater series. The state-of-the-art equipment for tablet coating enables closed material handling during filling, sampling and emptying. This makes the technology suited for coating tablets with highly potent active ingredients. The optimized drum geometry with its sophisticated spraying system improves the flow of process air and reduces process times. In addition, the coaters are highly flexible, with filling capacities ranging from 10 to 100 percent, and are available in six sizes from 175 to 1,000 liters.
And the new ACE (Advanced Carton Erector) platform is another example of Syntegon's intelligent technologies. The platform features high-speed forming capabilities and can handle a wide range of carton sizes. It forms cartons and trays without glue, instead using a special lock-style or ultrasonic technology for this purpose. The ACE platform is suitable, for example, for packaging used for baked goods, snacks, cereal bars, and frozen goods, as well as for products outside the food sector.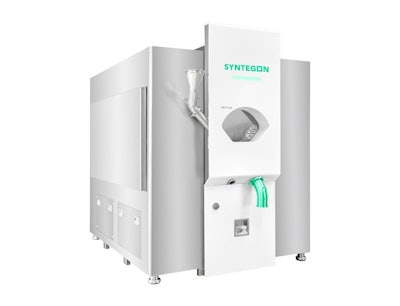 The future is bright
"Our machines not only look good, they also embody intelligent and sustainable technology," Grosse said. "Our focus will continue to be on this in the future."
Grosse said the company draws on a deep well of experience in developing and integrating software solutions, and uses connected components as well as components enhanced with artificial intelligence. "With all of this, we put a premium on ensuring sophisticated technologies are simple to use."
And in the area of sustainability, the company's strategy moving forward is first on machines designed for environmentally friendly packaging and second on retrofitting existing systems for sustainable packaging such as paper and monomaterials. "When developing future-oriented packaging solutions, we also rely on cooperation with competent partners. We accompany our customers not only as a machine supplier, but also as a consultant on the way to a sustainable future," he said.
Companies in this article