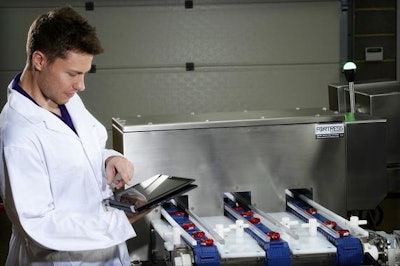 Fortress Technology's multiaperture, multilane metal detector can inspect a larger quantity of products with increased sensitivity, while optimizing a plant's efficiency and operations.
The multiaperture, multilane metal detector features a single metal detector mounted across multiple food processing and packaging lines with a single aperture dedicated to each line. Each aperture operates like a standalone metal detector. They are each sized as closely as possible to the product. As a result, the system is more sensitive to smaller metal particles and copes better with orientation and product effect. This helps prevent an entire row of good product from being rejected and wasted if a contaminated product is identified on one line.
A single control panel manages all lanes, streamlining operator access and enabling production managers to select and view data by individual lane, as well as analyze comparative lane data side by side. To increase production efficiency, each lane is programmed to run independently from each other. So, if one lane stops working or requires maintenance, the remaining continue to run as normal, therefore minimizing downtime.
Until now, food processors had limited options for multilane contaminant detection. They could either channel multiple lanes through a much larger single metal detector aperture. The clear drawback here is that the larger aperture size sacrifices valuable levels of sensitivity. This is because the larger aperture is looking for metal contaminants in multiple products and dealing with multiple signals, making it less sensitive.
In addition, any reject system will remove an entire line of product across all the lanes being checked, resulting in higher volumes of false rejects, creating unnecessary waste. In comparison, the Fortress multiaperture system only inspects and rejects contaminated products from the individual conveyor, which in a five-lane system can reduce false product rejects by 400 percent.
The other alternative – inserting individual metal detectors between each conveyor – is a costlier investment option, both at the initial outlay and to maintain for the lifetime of each machine. It also doubles the system's footprint, even when the metal detectors are staggered.
According to Fortress, its multiaperture, multilane metal detector can save food processors up to 50 percent of the space required by individual metal detectors, plus 17 percent of the installation cost.
With just one system to maintain and manage, in the longer term the multiaperture system improves total cost of ownership (TCO) by more than 65 percent, taking into account reduced maintenance and parts requirements. The system also features contact data software for enhanced traceability and includes a mobile app for remote examination to avoid repeat production stoppages.
Check out the multiaperture, multilane metal detector at PACK EXPO Las Vegas by stopping by the Fortress Technology booth in the Central Hall at booth 1951.
Companies in this article