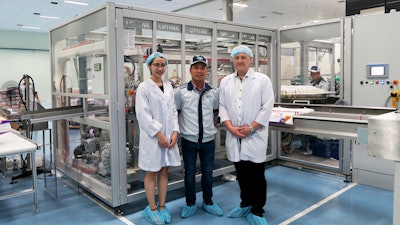 Established in 2014, Viet Sing International Production and Trading Co., Ltd. specializes in the production of sanitary paper products, including baby and adult diapers and sanitary napkins. As a member company of the Health Investment and Essential Consumer Goods Corporation, the Vietnamese company has a particularly high level of expertise in the hygienic and safe manufacturing of products. As a result, demand for its products has grown steadily.
In 2018, Viet Sing needed to increase the manufacturing and packaging capacity for its Jo brand of baby pull-up diapers in S and XXL sizes. To remain competitive, the company needed to do this without significantly increasing labor costs and without affecting the quality of the packaging.
Before acquiring new equipment, Viet Sing was using semi-automatic packaging machines. The transfer of the filled packages into the closing machine was done manually, which presented a bottleneck that prevented the increase in capacity. And, as line output increased, staff costs were impacted accordingly. In search of machines that provided higher productivity, Viet Sing evaluated several suppliers, selecting equipment from Optima supplied by The Rieckermann Company.
Viet Sing Plant Manager Nguyen Duc Vinh explains the decision to invest in Optima technology: "Optima is an established manufacturer in the world of packaging machines and has a very good reputation. With its focus on diaper packaging, it meets our requirements. In addition, Optima is known for its ultramodern technology and excellent service."
Viet Sing chose an OPTIMA DS1, a basic model for diaper packaging with three semi-automatic packing stations that can be upgraded into a fully automated packing machine fed with prefabricated bags. In addition, The system is available with a bagmaking machine. The OPTIMA DS1 can be synchronized with manufacturing equipment, and it can manage up to 600 products/min in the infeed as well as up to 50 packs/minute.
For the delivery of the equipment, Viet Sing had an ambitious six-month timeline. Optima Nonwovens accepted the challenge in November 2018, and in January 2019, the machine left its headquarters in Schwäbisch Hall in Germany.
After the machine was installed at Viet Sing, it only took two days before the OPTIMA DS1 machine was up an running. Says Vinh, "With the OPTIMA DS1, we were able to cut the number of operators in half. This helps us to both reduce labor costs and increase plant capacity.
"We were very impressed by the professional and precise working methods of the Optima team," among them Andreas Rothbauer, Key Account Manager Asia.
According to Vinh, the successful installation bodes well for a long-term collaboration between Viet Sing and Optima. "Our goal is fully automatic production lines," he says. "If the OPTIMA DS1 is stable and hassle-free over the next three to four months, then we will order more packaging machines for our remaining baby and adult diaper production lines."
Companies in this article