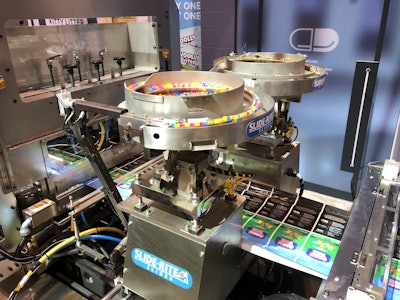 Fresh-Lock by Presto used PACK EXPO International as an opportunity to both celebrate its 30 years supplying packaging closures as well look toward the future by showcasing its latest packaging and manufacturing equipment innovations. A unique feature of the booth was its interactive town, Freshville, where visitors were able to gain a deeper understanding of the future of packaging with specific application to the healthcareindustry.
"This year's display not only showcase Fresh-Lock's latest products; it allows visitors to take a deep dive into consumer trends currently driving the market and the equipment making this packaging possible," said Brad Hansen, President at Reynolds Presto Products Specialty Division.
A focal point of the booth was a full pouch production line, highlighting Fresh-Lock's Hurricane slider insertion machine, which utilizes rotary-over-the-top insertion (ROTI) for sliders—a method that opens the door for operational efficiencies. As the company explained, the machine features a reduced footprint as well as ROTI production benefits, including increased speed and flexibility, reduced complexity, and improved registration. The Hurricane is currently available and compatible with several Fresh-Lock sliders, including one of the company's newest products, the mini Slider.
A reduced-scale closure, the mini Slider is designed for use on lightweight products and smaller pouches such as those used in the specialty beverage, snack food, pet care, and dairy industries. Noted Presto, as a low-cost alternative to traditional sliders, the mini Slider offers consumers a premium experience with ease of operation and extended product freshness.
Companies in this article