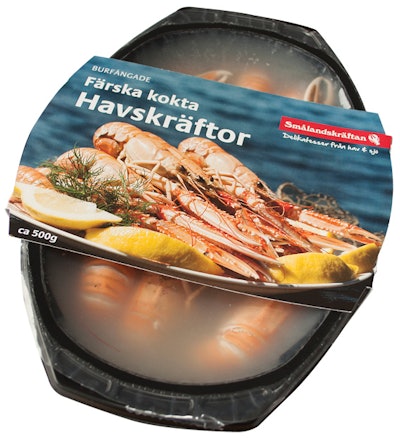 In June 2014, Smalandskraftan installed a new packaging line supplied by Micvac. Designed to produce chilled, ready-to-heat-and-serve foods, the Micvac automated fill/seal/cook/cool system utilizes microwave pasteurization to protect product flavor and extend packaged product shelf life without use of preservatives. By some estimates, refrigerated product shelf life has increased from 10 days to 35 days, depending on product type.
The complete production line includes processing and packaging equipment and packaging materials (barrier trays and easy-peel lidding film). It is totally continuous from the start of the tray denester of the filling line until the cooked, microwave-pasteurized, chilled trays are carton sleeve-wrapped and case-packed for distribution. The polypropylene trays are supplied by Faerch Plast, and the PA/PP lidding film is from Scandflex. The tray fill/seal system is from Mondini.
These filled and sealed trays (available in a range of shapes, sizes, and colors) can be enclosed by paperboard cartons or sleeves. The tray sealing system features an integrated valve applicator. Lidding film and valve are applied simultaneously. When the consumer microwave heats the trayed product, the patented valve emits a distinctive sound, alerting the consumer that the food is ready to serve.
The new Smalandskraftan line also includes an updated buffer and infeed module to supply the microwave pasteurization tunnel. This module is engineered for flexibility and easy changeover to accommodate various product and package formats. After exiting the microwave pasteurization tunnel, the filled, sealed trays are conveyed to the cooling equipment, which provides quick, controlled cooling to prevent bacterial growth and ensure maximum product quality. As the packaged product is cooled, steam condenses and a natural vacuum is created. The valve closes to prevent product contamination. The valve applicator, buffer, infeeder, microwave pasteurization tunnel, spiral cooler, and conveyor systems are all supplied by Micvac.
Joakim Behrenfors, Managing Director of Smalandskraftan, says, "The Micvac line enables us to considerably increase the shelf life of our fresh products, while maintaining high quality we are known for in the Swedish market."
Companies in this article