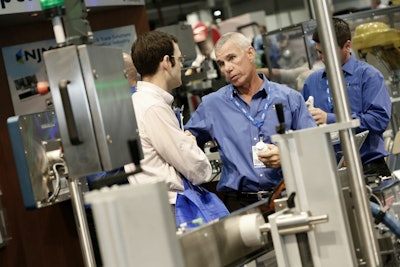 The global pharmaceutical industry is facing significant changes. Compliance with current and pending regulations on state, national, and international stages demands the attention and resources of already strapped pharmaceutical manufacturers. To overcome challenges to meet new regulations and increase production efficiency, pharmaceutical manufacturers are stepping up their operations by implementing advanced automation and robotic solutions.
Today's robotics meet zero-error quality expectations, all in less space and at reduced costs. Following is a sample of some of the latest technology that will be showcased at Pharma Expo 2014 Nov. 2-2 in Chicago. Pharma Expo, which will be co-located with PACK EXPO International 2014, is co-produced by the International Society for Pharmaceutical Engineering (ISPE), and PMMI, The Association for Packaging and Processing Technologies.
Robotic cartoning, labeling, and filling
Super-advanced robotics are leading the way in cartoning, labeling, filling, and material handling equipment. Many new production units on display will feature advanced inspection, sensor, and control systems. Newer production units have been engineered to combine the best in computer robotics with a need for flexibility on production lines.
At Pharma EXPO 2014, Colanar (Booth # 576) will introduce its FSM modular benchtop filling system. This innovation is suitable for producing small batches for clinical trials or other uses in which flexibility, accuracy, and short changeover time are beneficial. Each module features a state-of-the-art control system including touchscreen HMI, PLC, and servo drives. The FSM system is built to customer specifications, eliminating the need for separate costly filling machines.
Another example of advances in productivity, flexibility, and changeover speed comes from Fette Compacting America (Booth # 665). The company will showcase its FE35 Tablet Press, which can be fitted with up to 51 stations to produce up to 367,000 tablets/hr. The FE35 is clad in easily detachable, FDA-certified polymer panels and offers 360-degree access. All product contact parts are stainless steel, and the machine's geometrically optimized surfaces offer easy handling and fast cleaning.
The need for speed
To remain competitive and thrive in this industry, pharmaceutical manufacturers are seeking out solutions to speed their operations, bring products to market faster, and create greater revenue opportunities.
DENSO Robotics (Booth #931) responds to the industry's need for automation with the compact and high-speed DENSO VS-050 six-axis aseptic robot, which DENSO will introduce at Pharma Expo 2014.
The VS-050 aseptic robot, which has a standard cycle time of 0.37 seconds, is specially designed for applications such as pharmaceutical processing and packaging where biocontamination control is required. Conventional robots cannot be used in these applications because they cannot stand up to sterilization with hydrogen peroxide or UV light.
In addition to an ISO 5 cleanroom rating, the robot features nickel-plated aluminum coverings and sealed joints that allow it to be safely sterilized with hydrogen peroxide or UV light. The smooth, rounded, and polished exterior of the robot has no external screws to keep dirt, dust, and other contaminants from adhering to its surface.
Applying quality safeguards
With stringent regulatory standards in place for product safety and quality, reliable automated technologies are in high demand. Onelite (Booth # 450), which provides products to prevent product tampering and counterfeiting, will introduce the Onelite Ar-Box at Pharma Expo 2014.
The Ar-Box is a high-speed, automatic linear labeling system designed to apply self-adhesive labels or tamper-evident seals for the inviolability of tuck flap cartons on upper and/or bottom faces of closed boxes. The machine's compact design gives manufacturers the option to add printers and traceability systems without the need to create enormous additional space.
The Ar-Box can incorporate up to three labeling heads and reach a maximum output of 400 units/min, significantly increasing throughput. The machine comes equipped with advanced controls and a variety of user-friendly interface options that keep a record of user activity and events to meet FDA's 21 CFR Part 11 requirements.
The system is well-suited for pharmaceutical labs that need to comply with new traceability laws without having to upgrade existing packaging lines or expand their facility footprint.
Balancing efficiency and accuracy
Another fast-growing category at Pharma Expo 2014 is units of specialized analytical equipment designed to handle the growing volume of highly potent and costly drugs, where less-than-perfect measuring means waste and loss.
AC Compacting LLC (Booth # 577) will spotlight CI Precision's SADE Tablet/Capsule Weight Sorter that weighs batches of tablets, capsules, and similar solid dosage forms and sorts them by "accept" or "reject."
Typically, development departments use the machine to sort clinical trial batches by weight and in production for product reclamation, which can result in substantial cost savings, as these products are often scarce or expensive. Batches of tablets or capsules can be 100% weight sorted for complete quality assurance. The SADE series is equipped with two bulk hoppers, making it suitable for 24-hour unattended operation.
SADE sorters can be quickly changed over between products without the need for tools and change parts, and are ready to handle virtually any pharmaceutical solid dosage form.
In another instance, Per-Fil Industries, Inc.(Booth # 516), a filling equipment provider, previews its Per-Fil Micro-6 Inline Filling System that features high-speed and accurate dispensing of medical compounds into vials, bottles, blister packs, pouches, and syringes.
The system is designed to dispense, with extreme accuracy, from 15 mg to 150 gm of granular, powder, and viscous paste products into a wide range of containers. By utilizing multiple augers in one common hopper, Micro-6 fills six containers each cycle, providing the throughput required without sacrificing fill accuracy.
Combined, Pharma Expo and PACK EXPO International 2014 is expected to feature 2,000 exhibitors in more than 1.1 million net sq ft of exhibit space, and will attract more than 50,000 attendees.
Companies in this article