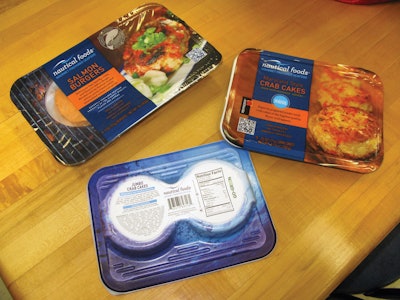 A well-established wholesaler of both fresh and frozen seafood products, Secaucus, NJ-based Scandia Seafood Inc. has just launched a brand new division named Nautical Foods that is aimed squarely at the retail market. Packaging—both the thermoformed tray and the flexible film lidding material—is a key element in this intriguing launch of frozen, value-added seafood products.

The Go-Green tray material comes from Coextruded Plastic Technologies, Inc.. From a material composition standpoint, it's a five-layer coextrusion of PP/tie/EVOH/tie/PE. More significant is the way in which the trays are thermoformed. This methodology is what lies behind the "Go-Green" moniker. Proprietary issues keep CPT from explaining in great detail just how the trays are made. But here's what we do know.

The five-layer sheet, coextruded by a source that CPT prefers not to name, arrives at CPT's Janesville, WI, plant in rollstock format. It's then cut into flat, rectangular blanks sized according to whatever tray is being produced. At Nautical Foods, trays measure either 6.72 x 8.75 or 10.75 x 6.72 inches.

The tray blanks emerge from the cutting system and are stacked the way flat carton blanks are stacked. They're fed next into a proprietary thermoforming system, though they first pass through a pre-heat process that is crucial to the overall traymaking sequence. Depth of draw is 1.2, 1.6, or 2.0 inches for Nautical Foods' trays. The proprietary thermoform system can form trays 16 to 24 up depending on size.

CPT's trays are "green" from a carbon footprint standpoint for two main reasons. First, there is no scrap matrix left behind as there is with comparable PP barrier trays that are thermoformed from rollstock. And second, no energy need be expended in grinding that matrix or recycling it. CPT claims its trays have a carbon footprint that is 21% smaller than a tray made from conventional roll-fed thermoforming, and the firm says that it has third-party certification through Walmart to support its carbon footprint claim.

Nice graphics

The trays used by Nautical Foods are also printed, and the graphics nicely evoke the deep blue sea. An offset press from Heidelberg does the printing in six colors.

According to Nautical Foods' Adam Licht, the sustainable packaging aspect of the Go-Green trays was an important factor in his decision to use them for his launch. "The Go-Green thing is really important to me and my company," says Licht. "I love the way they make these trays and the way they keep the residual scrap to a bare minimum."

The Go-Green trays are fed into a lidding system from Multivac. Operators place the crab cakes, fish sausages, or salmon burgers into trays by hand. The trays then enter a sealing chamber two across. Ambient air is evacuated and replaced with a backflush of nitrogen carbon dioxide before lidding film is heat-sealed to the tray flange. Supplied by Packall Packaging, the lidding material is a 2.5-mil barrier structure that includes reverse-printed 48-ga polyester adhesive laminated to an EVOH/LLDPE coextrusion. Printing is done on a 10-color flexo press.

And why the need for barrier film lidding and backflushed MAP gases when this is a frozen product? Because some retailers will elect to merchandise these trays in a slacked off, refrigerated state. "If they choose to go this route, they'll have a seven-day refrigerated shelf life, and they'll have to put their own code on themselves with something like a stamp or a sticker," says Licht.

"The Nautical Foods line is a high-end, value-added, preservative-free seafood in sustainable packaging," Licht adds. "We're excited about this launch."