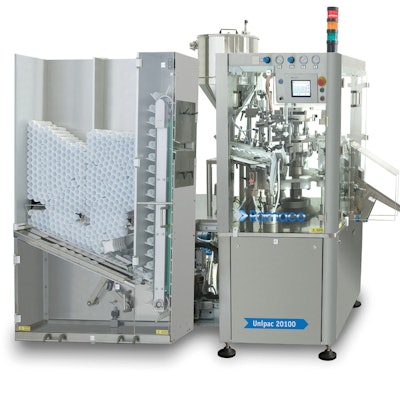 Italian cosmetics firm Colomer Italy recently extended its production capacities with a new space allocation strategy. Part of the Spanish Colomer Group, Colomer specializes in the production and processing of hair colors. As part of a modernization project at its Bologna site, a Romaco Unipac U 20100 tube filling line was installed underneath the processing equipment.
In the future, the colors can be fed directly from the mixing vessels to the dosing unit of the tube-filling machine. That is especially practical for filling shear-sensitive products, which have to be processed gently. Alternatively, the product solution can be stored temporarily in special tanks before being transferred to the inlet hopper of the tube filler.
The Unipac machine has operated in line with a Promatic PC 4200 cartoner at Colomer Italy since 2005. Now the unit is mainly used to fill Colomer's premium "Revlonissimo" and "Voilà" hair colors. The company's intensified positioning in the contract-packaging sector has broadened the Colomer product range. That requires the company to be able to adapt quickly to accommodate different products.
"The Unipac technology meets all our requirements for efficient tube filling processes," says Dr. Giacomo Anfuso, Colomer Italy's engineering and production manager. "Product changes can be completed in next to no time, and this is confirmed by the Romaco line's outstanding OEE values."
The Unipac tube filler is connected to two mixing vessels by means of a special quick-release mechanism. As soon as one batch has finished, the next one can start straight away. The operator exchanges the feeders and the product-contact parts. A second set of cleaned format parts for the tube-filling machine is available for this purpose.
Less than 10 minutes are necessary to change the pump of the tube filler, the flexible pipe, the dosing nozzle, and the hoses. Next, the process parameters are set and the laser engraving with the batch and shade numbers programmed. All in all, the changeover process for the entire line is completed in less than 40 minutes.
The Unipac manages between 60 and 100 tubes/min, depending on the quantity to be filled. "Thanks to our increased flexibility, Colomer is now one of the leading Contract-packaging companies," says Dr. Anfuso. "We combine many years of experience with service excellence, and are able to comply with even the most unusual customer specifications."
Companies in this article