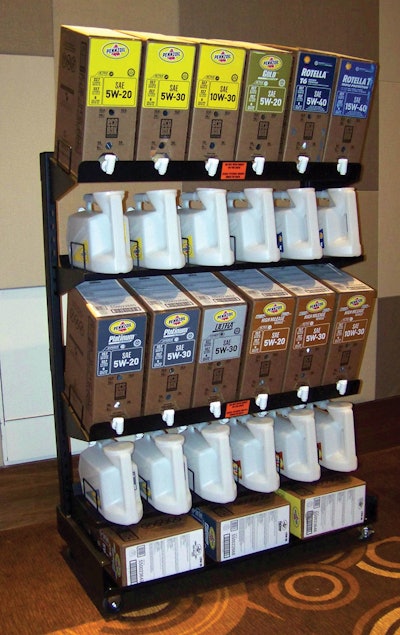 Automotive motor oils, fluids, and chemicals are typically filled into rigid plastic containers. But an "in-the-box" alternative—bag-in-box (BIB) in this instance—is providing manufacturers and quick-lube operators with an option that presents marketing opportunities, reduced costs, and less environmental impact than individual quart bottles as a single 6-gal BIB pack replaces 24 bottles.
The BIB packaging from Scholle Packaging earned a Gold award for Scholle and Shell Global Lubricants.
Houston-based Shell Lubricants refers to the motor oil packaging as the Ecobox™ system, noting that it has won three awards for the lubricant manufacturer and Scholle Packaging. The awards include the 3M Sustainability Award from 3M, the DuPont Award for Packaging Innovation for Excellence in Sustainability, and the Institute of Packaging Professionals' Ameristar Award in the newly created automotive category.
"Seeing the Ecobox system take home such prestigious awards validates what we were trying to accomplish with this project," says Don Moser, North America marketing manager, Shell Lubricants. "The Ecobox package is one of our many 'Smarter Mobility' efforts and demonstrates smarter use, through smarter packaging."
"Smarter Mobility" is Shell's approach to providing innovative solutions and expertise to help address today's transportation challenges. The three-tiered approach includes smarter use, smarter products, and smarter infrastructure. Shell notes the packaging can reduce storage space in automotive shops, as it is about one-half the size of the equivalent volume of single-quart cases. Plus, the bag containing the oil helps improve speed and ease of use compared to bottles. The oil is easily dispensed from a specially engineered valve, and then transferred to the engine crankcase by either a custom-designed pitcher or an Ecobox pump system.
According to a Shell press release, "the Ecobox plastic liner results in 89 percent less plastic landfill waste than the equivalent 24 plastic bottles, and the Ecobox carton is fully recyclable. The Ecobox pump system provides motor oil delivery that helps improve many operational tasks associated with dispensing oil using individual quarts."
Creativity in the use of packaging materials, packaging technology, and resource and energy optimization were all factors in the package winning awards.
"Owners and operators of oil-change facilities [can] more efficiently store, manage, and deliver oil to their customer's vehicles," says Katie Scarpelli, Scholle's global marketing communications manager. "The bag, which contains the oil, is designed to help improve speed and ease of use compared to bottles, as it drains quickly, leaves minimal residual oil behind, and requires less handling than quart bottles."
The BIB package has been available in the automotive chemical market for two years, primarily in the 6-gal size, although a 2.5-gal version is available for retail. The package includes three components: fitments (taps), polyethylene/nylon films, and outer corrugated. Customers source corrugated from their preferred supplier, although Scholle can assist with box specifications. Scholle also provides its SureFill® 12 automatic bag-in-box filler to fill liquids into bags. Shell uses two of the machines, one at its own facility in the Northeast, and another at a third-party location.
Companies in this article