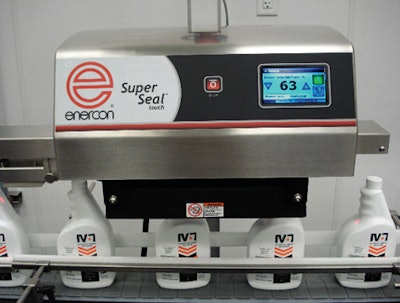 PURE BioScience, El Cajon, CA, manufactures and packages active ingredients that are nontoxic to humans for use as hard-surface disinfectants. The patented antimicrobial is silver dihydrogen citrate (SDC). PURE BioScience packages liquid products as active ingredients for third-party products and also blends its own IV7 brand ready-to-use disinfectants.
Currently, PURE BioScience operates one packaging line, but is looking to expand to co-packers due to increasing demand for the products. The disinfectants are being packaged in high-density polyethylene containers, sourced from multiple suppliers, in 2-, 3-, 4-, 16-, 32-, and 128-oz volumes in a range of shapes.
Both the 128-oz and 32-oz bottle sizes are induction-sealed using equipment from Enercon Industries to prevent leaks and help ensure two-year shelf life. The membrane induction sealing material is made of foil with polyfoam lining.
The products are filled using automatic pressure overflow filling equipment (Model KISS APOF-10) from Accutek. Andrew Lerch, production manager-packaging for PURE BioScience, says, "These automatic pressure overflow fillers are ideal for accommodating container size and shape variations. And the unique nozzle design is very adept at achieving uniform fills of foaming liquids. The automatic spindle capping equipment and pressure-sensitive front and back labeling equipment also is supplied by Accutek."
PURE BioScience purchased a filling, sealing, and capping line, and was happy with the performance of the filler and capper. But the company was not satisfied with the sealing operation. Lerch says, "We were encountering problems with bottles stalling on the sealing line and with caps melting."
Based on prior good experience with Enercon Industries Corp. induction sealing systems, PURE BioScience vp of operations Gary Primes referred Lerch to Enercon for consultation. Enercon suggested their Super Seal™ Touch system. After evaluating products from several companies, Primes and Lerch concluded that Enercon's technology and competitive price points provided a good match for PURE's needs.
Features the packer found especially attractive and useful included easy touchscreen operation, air-cooling, and built-in inspection systems to monitor for proper cap positioning and bottle stalls. Lerch added, "In particular, the intuitive touchscreen technology and mounted cap inspection sensors of Enercon's Super Seal system meet our demand for optimum efficiency."
The Super Seal Touch system has eliminated leakers and improper seals. And with the help of the inspection system, bottle stalls have been averted.
Lerch says, "The sealer installation was quick and painless. We took it out of the box, leveled it, and it was running immediately. Since installing the Super Seal Touch, we have increased production, decreased our downtime, and are more confident about the integrity of our packaging than ever. Induction sealing speeds now are approximately 40 bottles per minute. On a scale of one to ten, the next time PURE BioScience purchases an induction sealer, the likelihood of it being a Super Seal is a ten."

Companies in this article